WHY WE ENLIST: An Inside Look at Tam's Future Soldiers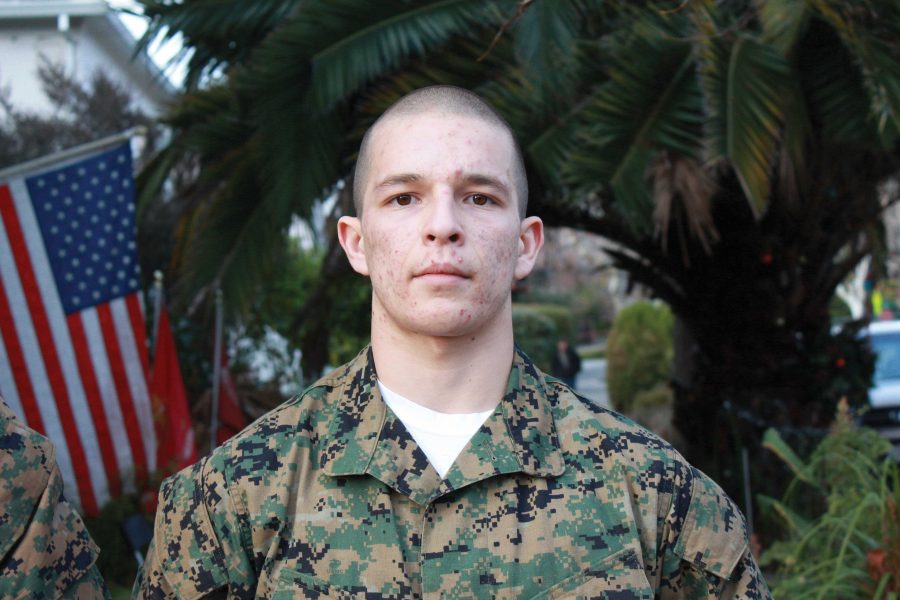 By Emma Boczek
February 25, 2014
After graduating from Tam a semester early this coming December, junior Chris Vogt plans on enduring 13 weeks in San Diego at United States Marine Corps Recruit Training, commonly known as "boot camp," where use of the first person is forbidden among recruits. "For three months you never say 'I,' 'me,' 'mine,' or 'his,'" Vogt said. "They want to break you down, then build you up. So they break you down, so you feel like you have no individuality, you have nothing. That's why you have no hair. You're not special; basically, you're nothing."
To prepare for the challenges of Marine Corps boot camp, Vogt attends a training program at House of Steel gym in San Rafael three days a week from 5 to 7 a.m., where he has risen to the rank of "squad leader." Vogt is in charge of up to 30 recruits, overseeing them through what he describes as five to 10 miles of running, "a few hundred burpees, a few hundred push-ups," sit-ups, squats and exercises that practice "military bearing," correct military conduct.
"Most people can't make it," Vogt said. "They either quit or they never come back. We've seen people who haven't made it more than fifteen minutes."
Graduates of House of Steel, including some of Vogt's close friends, have gone on to active military service in Afghanistan and Iraq. Though deployment overseas has been decreasing slowly since 2011 when President Obama withdrew American troops from Iraq and announced his plan to draw down in Afghanistan, 36,500 American troops currently remain in Afghanistan, according to the New York Times. Vogt said that he's prepared to go overseas. "No one wants to see combat," he said. "But I'm not joining to go see combat, I'm joining to be part of the brotherhood, to claim the title. Nothing's ever given, it's always earned."
Among Tam students, commitment to the military is unfamiliar, but not unusual. As college costs continue to rise, the educational benefits and financial stability the military can provide become more attractive to high school students around the country. According to the College and Career Center's annual senior survey, 15 Tam graduates have enlisted in the military since 2006.
"Money's a big factor in why some of these kids are joining," Tam's Marine Corps recruiter Sergeant Mario Minton said of the benefits of enrolling. Minton is among the recruiters from the Army, Navy, Marines, and Air Force who regularly visit Tam and nearby locations to speak with interested students.
There are several routes to the military immediately following high school, including enlisting directly, attending a selective tuition-free military academy to become an officer and earn a college degree, and joining the Reserve Officer Training Corps (ROTC), which offers college scholarships in exchange for promised active service after graduation. "Pay for college, get a technical skill that's actually worth something in the real world, get job experience; what's going to set you apart from those other guys that are applying for the same job you are is going to be that experience," Minton said.
After spending at least three years on active duty, veterans are entitled to four years of free public undergraduate education (or the monetary equivalent at a private school) under the Post-9/11 G.I. Bill, which was passed in 2008.
In addition to the military's tangible benefits, Minton said he sees high school students joining for less concrete reasons. "For some of these kids, it's just in their genetics," he said.
Military service is an inherited practice for senior Michael Van Zandt, who has enlisted in the army and plans to join a specialized infantry unit. "My dad was in the army. He was always telling me stories and stuff like that, so really I've wanted to do it ever since I was a little kid," he said. "As far as I know, every generation in my dad's family has been in the army, forever. I know my grandfather fought in World War II, my great grandfather before him." Despite this tradition, Van Zandt said he felt no pressure from his family to enlist. "My dad actually didn't really want me to go," he said. "I mean, he was proud of my choice, but yeah, I wouldn't say he wanted me to go. My mom certainly didn't. She's almost in tears every time we even bring up the subject."
Senior Sebastian Tamblyn, who hopes to become an officer and later go into education or politics, faced family pushback after he made the decision to join the Marine Corps. "My parents, they aren't really happy that I'm going to the military, but they're happy about what my goals are," he said. "They're not happy about the means of doing it, but they're happy with what the end result is going to be." As the first in his family to enlist, Tamblyn has encountered bumps in the road throughout the recruiting process. "[My mom and I have] gotten in so many arguments ever since I talked to a Marine about enlisting," he said. "She just thinks I'm going to go straight to Afghanistan in a week, but that's not the case."
Enthusiasm for the armed forces is limited within Marin's predominantly liberal population. "There aren't that many people who come from Mill Valley who join the military," Van Zandt said. "A lot of people don't really support the wars that are going on." The armed forces recruiting station nearest to Tam is in Novato, a 20-minute drive away, and recruiting out of Tam is fairly difficult, according to Minton.
"We're so far away from war in Marin County, which is really hard to recruit out of, because a lot of kids do have money," Minton said. "I would say at the height of the Iraq war and the Afghanistan war, because [Al Qaeda] actually attacked us, more people were actually enlisting at that time, because they wanted to serve their country. Now, we're so far away from that. It's a new culture."
Sergeant Gilbert Love visits the College and Career Center every month on behalf of the U.S. Army. "The military's not for everybody," he said. "At the same time, college is not for everybody, so it just depends on the individual." According to Love, "mainly the excitement and the travel" bring young recruits to the military, in addition to the educational and financial draws.
"There's people from all walks of life, all different backgrounds," Love said. That's one thing that makes the military unique; it's very diverse."
The summer after his junior year, Tamblyn attended the United States Naval Academy Summer Seminar, a six-day program in Annapolis, Maryland. He returned from the Naval Academy with a U.S. Marine Corps T-shirt. "I was really embarrassed to wear it. I didn't want people hazing me about it, or just asking me a lot of questions about it, because I didn't want it to be a big thing. It was kind of one of my personal things," he said. "And then one day, in the summer, I decided I was going to get the guts to wear it. I wore it, and I got a bunch of questions. Everyone was like, 'Really? You're going to do that? Isn't that so hard? What if you die?'" Tamblyn said reactions to his decision have ranged from respectful to disparaging. "Certain people, my classmates usually, when they hear about me, they're like, 'Why would you kill someone?' … I guess I don't blame them, because they're ignorant. But I understand where they're coming from, at the same time."
Tamblyn said that many of his peers don't see the military as a path to success. "[Kids have said to me], 'Don't you have any dreams of being financially successful? You won't get any money,'" he said. He acknowledged that "you're not going to be financially successful if you go into the military straight out," adding that "there's a different type of success and conviction that comes out of it that's not evident in Marin. … I'm not saying they haven't worked hard, it's just a different conviction they have," he said.
Like Vogt, junior Caylen de los Reyes plans on graduating from Tam a semester early, though he hasn't decided whether he will pursue a college education before or after his planned service in the Marine Corps. "The vast majority [of Tam students] don't realize the intensity or the depth of making that kind of choice, which is fine. I don't expect everyone to realize what joining the military branch means," he said. Though de los Reyes found that most of his friends were supportive of his individual choice, he said that as a school, "generally we're not very supportive of the military. … Tam's a pretty generally pacifist school."
Until he moved to Marin in seventh grade, de los Reyes lived in New York City's Harlem, where he said he witnessed "the effect that financial struggles have on a family, and specifically the financial struggles of going to college with loans, or grants, or whatever it may be. There's often a lot of stress behind that," he said. "If there's a way in which I can be happy and take away that stress, then I'm going to do it."
The discipline aspects of the military appealed to de los Reyes, whose stepfather served in the Israeli Defense Force. "I find that I have a lot of problems with self-motivation, with lack of discipline at home and school," he said. "I realize that a lot of it has to come from me, but I think a helping hand, that being the Marine Corps, would be a great foothold." In an effort to better understand and practice this type of discipline, de los Reyes participates in Civil Air Patrol, a volunteer civilian auxiliary program of the United States Air Force, where he helps to relay signals and communications between local planes, including those involved in Search and Rescue operations.
Vogt was also drawn to the military's emphasis on discipline. "Before [joining House of Steel], my moral compass and the way I made decisions wasn't in the best way," he said. "I believe that discipline will make you into a better person, in how you make decisions, how you live your life." Vogt added that he tries to incorporate these principles into his everyday life. "I work out at least twice a day, to keep the fitness up. I keep my room clean, I try to be as respectful as I can. When I have free time I go out and hike, and use all the skills that we've learned in more practical situations," he said.
At House of Steel, Vogt passes these values to the recruits. "Of course there are going to be consequences if they don't do [something] right," he said. "We'll make them roll in the mud for a bit, and it's cold in the mornings. … It's to break down [their] thinking, 'I have comforts, I'm entitled to this.' There is no entitlement. You don't deserve to have those comforts because when you're in combat – everything's combat-oriented – you might be wet, you might be cold, you might be sandy. You're going to have to push through it in order to accomplish the mission."
Joining the Marine Corps is a test Vogt looks to with anticipation. "[If] people tell me I can't get over a wall, I'm going to jump over it," he said. "I want to see if I can make it." Vogt said he keeps in mind the saying "Pain is weakness leaving the body. [That way] you always know that all the suffering you put in is going to pay off for you later."
House of Steel has been a source of strong friendships for Vogt. "I'd do anything for these guys," he said. "A lot of people don't know that. When you're in combat people think, 'Oh, you're fighting for the Marine Corps, you're fighting for people back home.' You're always fighting for the guy on your left and the guy on your right, because you know that you're never going to quit on him, because he'll never quit on you."
Similarly, Van Zandt said that he was looking forward to "seeing how the teamwork dynamic works and being a part of it." He said that a sense of "being able to give back to the country and the government that gave me this good life that I've lived so far" has contributed to his decision to enlist.
Such patriotism resonates with de los Reyes only to a certain extent. "I identify with the romance of being an American, or being patriotic. But at the same time, having studied a lot of what's going on behind the scenes, in a lot of our conflicts, it's kind of hard occasionally to put on a uniform and have to represent things that aren't always very transparent," he said. "But I'd say in general, a lot of the patriotism for me comes from wanting to protect the ones at home by going overseas, if that were necessary. That's kind of how I see it – by going overseas, by going [to] places like Afghanistan, or wherever it may be, I'm keeping the people back home safe."
According to Vogt, he has been able to connect with the military mindset and lifestyle more than that of traditional schooling. "I can't really do desk jobs. I've never been able to sit down, sit still, do that stuff, I always want to be up and active." he said. Vogt said that so far he has not found his high school classes fully engaging, "whereas being outside I've always loved. … It's some cool stuff you do. You're getting paid to get dirty and blow stuff up. I don't know, that sounds really fun to me." He is looking forward to graduating. "Finally, it's my time to sign and get out of here," he said. "I'm excited for that."
Whatever route he takes, de los Reyes said that he sees joining the military as a way "to better myself," he said. "I'd be doing it for me."