Bidding Farewell to Susan Gertman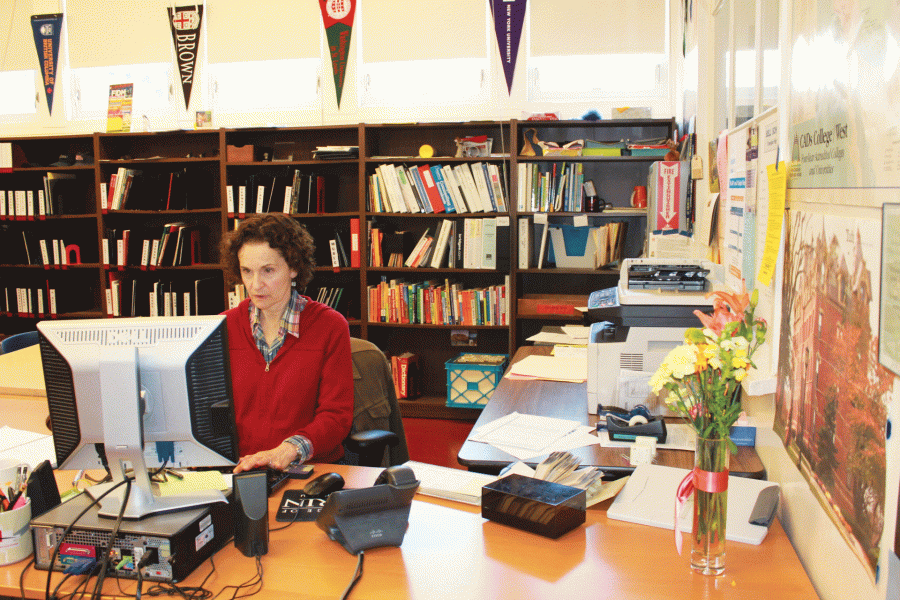 By Cassie Jeong
June 11, 2014
You know her from her workshops on everything from financial aid to college essays, conducting class-wide surveys on Naviance, or sending out informational emails on upcoming events and scholarships. Her lookout perches on the busiest part of campus — the intersection of the two Keyser buildings — and features a bulletin of relevant events posted on the railing outside her station. We bid farewell to Susan Gertman, who is retiring this year after nine years as Tam's College and Career specialist.
"People get into education to make a difference in the lives of other students," Gertman said. "I love [when I'm] working with a student and they'll be nervous about something, and the sense of relief I'll see when I'm able to help a student realize that he is definitely able to go to college, or she is able to afford her education."
Gertman was fascinated by the transition from high school to college or a career since her own high school days. She remembers students at her very competitive public high school in Massachusetts facing enormous pressure and difficulties during their college application process, and thinking the system should be different.
During Gertman's time at Connecticut College, the school transitioned from all-women to co-ed. She began working as a reporter in Chelsea, Massachusetts, where she started her lifelong involvement observing the education system. Her interest in career preparation also began as a journalist, writing articles about health and self-care.
"I got tired of [being a journalist]," she said. "You write enough articles about depression and wearing sunscreen. I wanted a new topic, something different… I've always thought careers, and how people decide what career to go into, was very interesting, and I wanted a change [in mine]." She then pursued a Masters degree in career counseling at San Francisco State, through which she interned at Tam's College and Career Center under her then-predecessor, Sarah Prudent, in the 1997-1998 school year.
Gertman is also a parent of two Tam grads. Her sons graduated in 2003 and 2005, and she took over as Tam's official College and Career Specialist in her younger child's senior year.
"When I started, the class of '05 had 257 students; now it's 330," Gertman said. "Fewer than 60 colleges would come to visit [Tam], and now it's 105."
She gestured to shelves behind her, filled with books and pamphlets from schools organized by state and field of study. College pennants and posters adorn every available space on the walls, and racks of brochures, guides and binders on topics ranging from internship applications to scholarship opportunities filled the room. Many of these resources, like the college representatives she arranges to visit Tam, Gertman collected herself in her efforts to improve the College and Career Center.
"It's expensive, time-consuming, and a lot of effort to visit colleges," Gertman said. "This way, [students] can meet the reps here… It's less daunting and intimidating than to call the main admissions number, and makes the school more human."
"They like coming here," she said of the college representatives. "The students are engaged and ask very good questions… I appreciate that [some] come in at 7:30 in the morning, so I generally offer some tea."
No colleges came to visit Gertman at her high school, though her senior class had 800 students. It was expected that students would prepare for the future on their own, and there was no specialized college and career counselor position like Gertman's
"I think it's my responsibility to give [students] options to explore," Gertman said. "It's their experience. [I am] a guide, not a dictator."
A large part of Gertman's interaction with students is online. Gertman introduces students each year to Naviance, a college and career planning site that offers career interest surveys, scholarship searches, and more. She recalled a time before the ubiquity of personal computers when she had to organize data gathered in the senior survey herself – something Naviance does now.
Another online service Gertman provides is her regular emails to students and parents concerning school events, local college fairs and the "green sheet," a regularly updated list of scholarships and their deadlines. "My goal was to do everything I could to make information more accessible to people," she said. "My background is in communications, so [it's] one thing to have a lot of things in the career center – my goal has been easy access to the career center.
"I still see students look to see if the sign's up," Gertman said, referring to the sheet of upcoming events she posts outside her room. "Because of the emails and the sign and the bulletin, attendance has increased in the every event and rep meeting."
Gertman tries to personalize her guidance to each student. "I meet them when they're in different places on the road. It's to know where they are… [to see if they're] self-directed and on track. Many don't know where to begin, so [I] have to meet them where he or she is," she said.
Gertman also organizes workshops on post high-school planning, college applications, and essay writing, as well as SAT practice tests.
"I've done everything I could to make information more accessible to students and parents," Gertman reflected. "I think I've developed a communications program for Tam families." Gertman's improvements to the College and Career Center guarantee her ideas and influence will be missed next year.