Kimo Karp: Nine Years of Touchdowns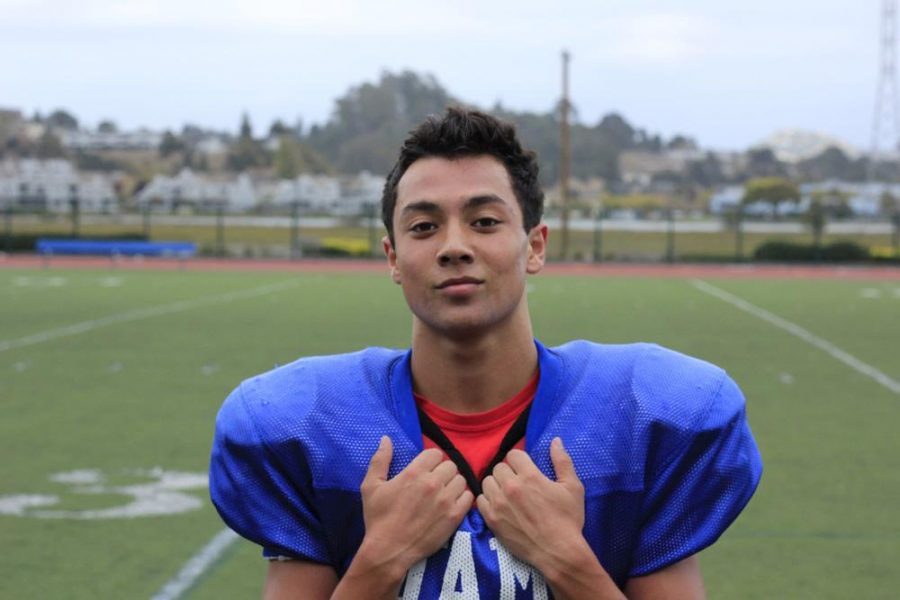 Kimo Karp may be a star receiver, but he's not too cool to admit that he's best friends with his pet. "My best friend in this world is my dog. It's a golden retriever poodle mix. It's my favorite thing in the world," Karp said. "Her name's Ginger, but my mom accidentally switched the L's for G's on the birth certificate, so everyone else calls her Ginger, but I like calling her Linler."
Karp began playing football in elementary school, nine years ago. "I really liked the coaches that I had when I was younger and it was a lot of fun, it wasn't like any other sport I played in that it was like a lot of work over the summer, we had practice every day," Karp said.
"I started in third grade, and I don't really remember exactly how I started, but I joined Southern Marin Broncos, which was the Pop Warner team at the time," Karp said. "I joined with some of my friends from Edna Maguire Elementary School and we had a blast and continued with football." For Karp, the most important aspect of football is the sense of community that comes from playing on a team. "The best thing about football is hanging out with the teammates," Karp said. "Like during practice and during games, obviously, but being around other guys is so much fun, meeting them, becoming friends with them, that's the best part. And winning."
This sense of teamwork has carried over outside of football. "I think the whole team has a lot of chemistry, we hang out out of school and stuff," Karp said. "Keep it light, during practice, not really goofing around, but having jokes and like having fun and I think that's something that's important to our team chemistry and something that we're good at."
Karp also cites his coaches as one of his primary motivations for continuing on with the sport. "The coaches every year, they're always at the end of the year, like telling guys to come back, like some coaches have definitely reached out to me saying to stick with football," he said.
Karp says that at Tam, coach and science teacher Mick O'Meara has been key in his development. "I had him as a JV coach last year, and I kind of like built a relationship with him, like he coached me really well last year, now he's a varsity coach and since I already know him really well, and have had him for a year I think that's something that's been beneficial for both of us," Karp said.
O'Meara says that Karp is "fun to coach" and a role model for the younger athletes. "He's a talented athlete who is very competitive, works extremely hard, great teammate and very coachable. He is intuitive and understands the nuances of the game of football," O'Meara said.
While football is Karp's favorite sport, he plays others at Tam, including basketball and track, which he joined to stay in shape in the off-season. "Track definitely helps with football, like a lot," said Karp. "You stay in shape, you run everyday. You get a lot faster, because the track coaches like help you with running mechanics. In football, coaches don't do as much and that just translates to on the field speed."
When he's not at practice or a game, Karp uses the time to recover. "We do a lot of conditioning and a lot of stuff during practice that prepares us, so basically what I'm doing outside of practice is just resting and getting ready to come back the next day and practice again, or play," he said.
In his spare time, Karp spends time with his friends, listens to music, and watches old movies. "I listen to all types of music, I listen to a lot of reggae and old rock music, but a wide variety I'd say, definitely," he said.
Karp says that he "loves" playing football for Tam, and that he's hopeful about Tam's prospects this year. "I think we have a lot of potential. We keep improving every week. I think we could definitely surprise some teams and play really well," he said