2019-2020 ASB election results announced
The election results for next year's Associated Student Body (ASB) officers were announced on Thursday, May 9. Each class elected a president, vice president, treasurer, secretary, and site council representative.
The Class of 2020 Treasurer will be Theo Koffman, Secretary will be Lauren Pyfer, Site Council will be Theo Koffman, School Board Representative will be Kara Kneafsey, Vice President will be Lily Travers, and next year's senior class President will be Johnnel Peterson.
"Within this next [year] I'd like to have more fun school-wide events, create a more safe environment at Tam, have more Tam spirit, and make Tam fundraisers more popular," Peterson said.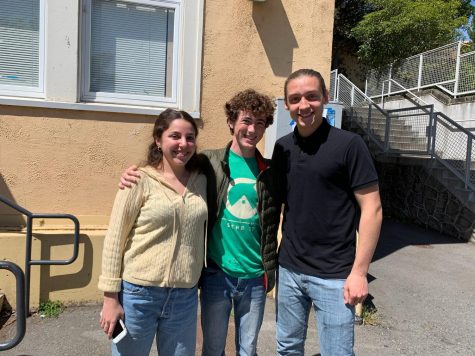 Each candidate put up posters around the school and a short video with all the candidates was played in tutorial classes before elections began. Students in grades 9 through 11 voted through a Google survey, which closed on May 8 before the results were announced the following day.
Class of 2021 Site Council will be Sophia Brooks, Treasurer will be Otto Ryersen, and Secretary will be Adrienne Murr. Vice President and President will be Hashi Mizukami and Rachel Sulciner, respectively.
"I am really excited to be junior president next year, and I am excited to plan some more events that bring [the class of 2021] together, as well as all of Tam," Sulciner said.
Class of 2022 Vice President will be Abby Brooks, Treasurer will be Zoe Neulight, Secretary will be Cassandra Ruark, Site Council will be McKenzie Holtzapple, and Emmet Kneafsey was re-elected as class president.
"Being president feels good, but it definitely comes with a lot pressure. It's a lot to know that I have to represent the whole grade," Emmet Kneafsey said.
The newly-elected representatives will begin their terms at the start of next school year.
"I'm excited to work with my elected officials; [they're] very hardworking and passionate about our school. They are full of fantastic ideas and are excited to share them," Peterson said.
photo by Kara Kneafsey