Performing Stars hosts MLK Day of Service
Volunteers attended a Martin Luther King, Jr. Day of Service on Monday, January 20 in Marin City. The event was organized by Performing Stars of Marin in partnership with the Marin City Community Services District. Approximately 60 volunteers participated in three projects: clearing debris from the Orchard Trail, cleaning up the Mattie and Clarence Boatman Community Garden, and performing litter abatement around Marin City. 
"The Martin Luther King day event was one of the many events that we sponsor where we connect our community with people outside of the community," Performing Stars founder and Executive Director Felecia Gaston said. 
Performing Stars is a non-profit organization that serves low-income youth in Marin County by providing opportunities for them to connect with the arts and build pride and character according to Gaston.
"I think it's a great organization. I feel like it starts here … I think more people should get involved because it's a great opportunity," junior Siyon Farin, who volunteered at the event, said.
Performing Stars and local volunteers participated in a restoration of the Mattie and Clarence Boatman Community Garden on Cole Drive in Marin City. The garden was established in 1970 and later named after Mattie and Clarence Boatman, two Marin City residents who "envisioned local people having their own little plots where they can grow their own vegetables and fruit," Gaston said. She added that lately, the garden "hadn't had any sprucing up for a while."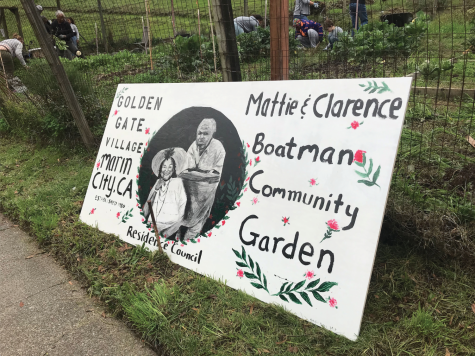 Performing Stars partnered with the Golden Gate National Parks Conservancy (GGNPC) and the Conservation Corps in other projects around the community. The GGNPC helped volunteers trim fruit trees in the orchard next to the Orchard Trail and clear French broom, an invasive plant species and potential fire hazard, from the path. The Orchard Trail is the only trailhead in the country that connects directly to public housing, Marin City's Golden Gate Village, according to GGNPC Youth Programs Manager Elsa Calvillo. 
"A lot of this land used to be Portuguese farmers' and so there's a historic orchard leftover from there," Calvillo said. "The cultural history of the space is really unique and unlike any other space that we host within the Golden Gate National Recreation Area."
Eight volunteers from the Conservation Corps North Bay collected 250 pounds of trash from around the neighborhood. 
"We're trying to do a little good, do our part," Conservation Corps volunteer Matthew Simmons said.
"This was a great opportunity for people within the community and outside the community to say that they came and did a day of service on Martin Luther King's birthday," Gaston said.