PTSA meeting examines drug culture at Tam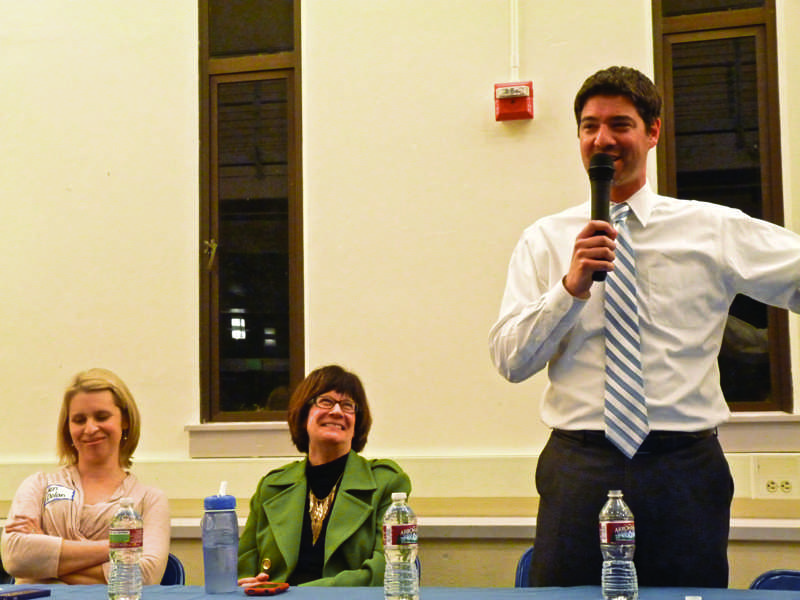 By Sean Eghtessadi
March 15, 2012
The Parent Teacher Student Association held a drug and alcohol awareness meeting in the Student Center on February 7. Its purpose, according to current PTSA president Gwen Hubbard, was to "provide a realistic picture of drinking at Tam" as well as to announce the formation of an Alcohol Task Force by Principal Tom Drescher.
The meeting was split into three parts: a student panel, a faculty panel, and to conclude, a moderated forum to come up with solutions. However, Mr. Drescher could not attend due to personal reasons, and the task force was not announced.
During the first panel, it quickly became apparent that there was a huge gap between student experience and parent awareness.
"It's not just drinking a beer and playing Twister," said senior Caitlin Firmage to a parent who asked whether Tam students were drinking wine at parties. "It's binge drinking, usually of cheap vodka, gin, rum or beer."
The parents believed that the suppliers of the drugs and alcohol were "creepy older people who hang out in front of Safeway" or medical marijuana card holders, who stayed near the school to deliver the drugs.
The students set this straight by telling parents that the majority of dealers of weed and alcohol are students themselves. The panel agreed that as you get older, it becomes easier to get alcohol as more and more students obtain fake IDs. The reason for this confusion seemed to stem from the zero tolerance policies that many parents maintain with their students, and the lack of communication that these generate.
Senior Claudia Shapiro explained that if her parents ever caught her drinking, she would be "so grounded, no car, no phone, no leaving the house, so grounded."
This kind of punishment scares a small fraction students into not drinking, but the majority – somewhere between 60-70 percent of students, the student panel estimated – do partake in drinking and smoking, and a zero tolerance policy only scares them from being honest with their parents, according to the panel.
The students agreed that the best way for parents to support their kids was to have an open relationship, to start by sitting down and having a conversation about drugs and alcohol with their child. By telling them stories about their own experiences and letting their kids know that they would always be there when help was needed, the student panel agreed that parents could teach children from their own mistakes. The panel also noted that consequences could then be established afterwards, but they shouldn't be too heavy-handed.
"Parents should remember what it was like to be 16, 17, 18 again," said one parent.
Another parent asked if Every 15 Minutes, a drunk driving accident simulation in which members of the local police force and Tam students participate, had an impact on drunk driving by students. "It seemed to stop for a couple of months, but it then started up again," said Firmage.
If the first awareness panel worried parents, the second panel sought to reassure them by showing what the school was doing to counter the drinking and drug problems at Tam.
Assistant Principal Chad Stuart opened up by explaining that Tam had a zero tolerance policy, outlining the consequences for 1st and 2nd offenses, and how the school has attempted to teach students to make the right decisions.
While all the students who had spoken earlier said they had seen students under the influence in class, Peer Resource Teacher Jennifer Dolan said that "it's not that often, and the rumors get exaggerated by the time they reach parents."
The teacher panel also assured parents that if a teacher were to find a student high or drunk in class, they would immediately report them to campus supervisors, who would respond in five minutes or less. However, it is hard for the teachers to catch everyone, as "[in the case of] some kids, it's who they are, they're good at hiding it,"Stuart said.
When one parent asked about the legality of random searches, Mr. Stuart said the school needed reasonable suspicion. "If you are found coming on or going off campus when you shouldn't be, you will be searched," he said.
The faculty panel agreed that students are beginning to use drugs and drink earlier in their high school careers. School Counselor Evelyn Dorsett told parents that "usage and experimenting starts younger and younger each year. It used to be mostly seniors, but now there are signs that it is starting in middle school."
One parent who has had multiple children go through Tam responded by saying, "18 years ago, weed was just as prevalent at Tam as it is today."
When the panel was asked if stress caused by school was causing students to use drugs and alcohol, Dolan said, "I don't believe school stress contributes, [to drug use]," and pointed to parents being okay with their students using substances as part of the problem, along with movies, video games, and music.
The final part of the meeting was to discuss possible solutions. The parents agreed that the first step was to tell kids their expectations and values. Some parents believed that more security cameras would be useful; there are already 15 according to Stuart, who said he "will always push for more cameras," because they serve as a good deterrent.
One parent proposed the idea of enlisting students as informants, who would report anything they saw or heard to the administration. The panel countered, saying that there is a strong anti-snitch culture at Tam, and thus such an informant position could put students in jeopardy.
Another parent thought that "weed and alcohol should be taxed and the money should go to the school system."
The meeting closed with the announcement of a follow up meeting on March 7, which parents weren't sure would include students, where Ralph Cantor, a member of Safe and Drug-Free Schools and Communities, would speak on the effects of drugs and alcohol on the developing teenage brain.