Mountain Bike Team Has New Attitude, Co-Coach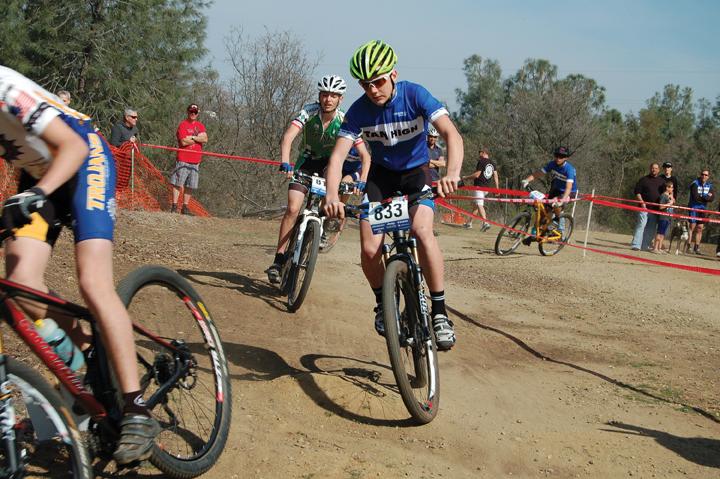 By Billie Mandelbaum
April 24, 2013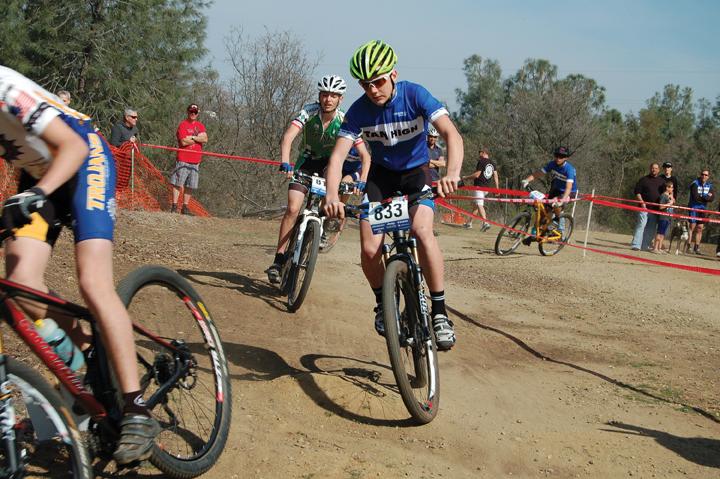 After a 13th place finish at last year's state championship race, the mountain bike team seeks to build upon its past success as it begins the 2013 season. With a roster double the size of last year's, including many new to the sport, the team has had strong showings so far at the season's first three races.
"I've been very impressed with the team," senior caption Spence Peterson said. "The team is definitely bigger than it has ever been. I believe the roster is at 39 riders this year, and we have around 25-30 riders consistently coming on our Wednesday and Sunday rides. It has been really fun having so many new riders."
At the Bringing it Back Together race in Granite Bay on March 24, the team placed 9th overall. Members of the freshmen boys' squad led the way. Freshmen Clayton Puckett and Elliot Grant both reached the winner's podium, with Clayton Puckett placing second and Grant taking third.
According to Peterson, the freshmen boys' squad has been an integral part of the team this year.
"The freshman boys squad is really great this year," Peterson said. "It's cool to see so many new riders that are so excited and ready to shred. They are definitely a high energy bunch, but they are ready to learn and improve."
In addition to placing second at the Bringing it Back Together race, Clayton Puckett also took second place at both the the Granite Bay Challenge on February 24 and the Behind the Bars race in Folsom on March 10.
"Clayton has gotten second three times this year but is definitely close to scoring a win in the freshmen category," Peterson said.
Along with the freshmen boys' squad, the girls' squad, which includes many new members, has also performed well. This is the second year Tam has fielded a full girls' team.
This year, the girls' consists of 10 riders, led by sophomores Anna-Sofie Whalen and Dani Howard and juniors Lisa Martinez and Mae Puckett (who is also a Tam News editor). The girls' squad performed particularly well at the Granite Bay Challenge. Three girls reached the winner's podium, making them the first female riders to ever reach the podium for Tam. Whalen took first place in the sophomore girls' race, while Howard placed fourth. Martinez took fourth in the junior varsity girls' race.
Though both Martinez and Mae Puckett were members of Tam's inaugural girls' team last year, both Howard and Whalen are new to the team.
Mae Puckett encouraged Whalen to join the team, though the sophomore was hesitant given her limited mountain biking experience.
"I couldn't picture myself as a biker whatsoever as I hadn't really done a lot of biking in the past," Whalen said. "In Granite Bay for my first race, my only goal was to finish. I was really happy to come in first, but most of all I was shocked. I couldn't believe it. I felt exhausted but I was very happy that my hard work had paid off."
In addition to new riders on both the boys' and girls' squads, the team also has a new co-coach. Den Satake, a co-owner of the Mill Valley bike store Tam Bikes, is assisting Christy Allen, who joined last year to lead the girls' team. Satake, a former professional mountain biker, has raced in both world and national championship races. Satake's passion and enthusiasm for the sport of mountain biking has been well received by the team.
"Den is an awesome coach," Peterson said. "He has been able to give so much advice that is genuine and makes sense. Den can really relate to what it is like to suffer on the bike for an hour and a half and that makes a difference in how he coaches. He is fun, organized, and knows how to help riders achieve their goals and go faster."