"If You're Reading This It's Too Late"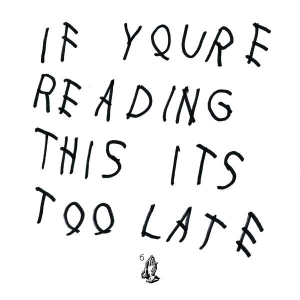 Drake's catchy new album, "If You're Reading This, It's Too Late" captures the essence of trap with flowing lines and hard beats. Anyone can bump to his music and it's hard not to feel the vibe. Drake's unannounced album also brings the Beyoncé to the beat as he didn't need to hype the album before it came out. He brings out the sub and the snare hits hard while bringing bricksquad feeling bangs that really wrap it up together. Drake really proves "you know how that sh*t go" in his new album.
"Legend" is the first song in the album it brings a beautiful chorus that overwhelms you and stays fresh and catchy at the same time. The chorus goes "Oh my God, Oh my God/ If I die, I'm a legend x2" that brings the hype that was missing when he first released it. He even sampled Ginuwine's "So Anxious", a great stylistic choice. When he first started building up in early 2009, many artists including Freddy Gibbs and Makonnen disapproved of his music; "Drake is mad corny! I just heard that practice song, straight cornpuff," said Makonnen on his twitter. But recently these big game artists have been praising him thus leading him to write "They been off for a minute now/You know they all sentimental now/You know they all actin' different now". With all these components talk about going 0-100, real quick.
"Energy," the next song in the album, is basically Papi telling off the bad boys. The chorus goes "I got enemies, got a lot of enemies/Got a lot of people tryna drain me of my energy" These lyrics explain that people are trying to take down 6 God but he's not moving anywhere because "I hear fairy tales 'bout how they gon' run up on me/Well, run up when you see me then and we gon' see".
"10 Bands" is okay, I like the melody line.
"Know Yourself," my personal favorite and intro into this article bumps so hard. In the beginning verse, Drake is showing his fame with lines like "I want that Ferrari then I swerve/I want that Bugatti just to hurt" showing that he wants a fast car (the Ferrari) but needs a Bugatti to show of his money making power. At about 1:30 in the song it gets serious, seriously mad! The chorus bangs and the beat drops. It explains him grinding with his crew in the streets and "working on excellence" (the acronym meaning for WOE.) Also straight shoutouts to area code 6's 416 and 647, Toronto you know how he rolls. Then begins the chorus with a clever combining of Top Boy and International to create a parallel structure that exemplifies that since Top Boy is an international show broadcasted on British and American T.V. —it's international and then he shouts out to his boys. With all of his fame his lifestyle has now shifted "thinks about money and women/Like 24/7, that's where my life took me/That's just how shit happened to go." I remember when he was little, it's been a long time.
"Madonna" is a good song. It's a great relaxing song to lay back to and rest up. It's a great shoutout to the Queen of Pop as well. Love you girl.
"6 God": dope. It's pretty sick but it's kind of short and not very catchy or different. Recommended for the aux to test out who you are bumpin' with but don't want to go hard and test out if they like Drake. It's also interchangeable with "Star67" (the next song.)
"Preach" and "Wednesday Night Interlude" are both those slow songs on every new album with some new R&B vocals. I really like "Wednesday Night Interlude", it's got surround sound flow like when the sound goes left to right. It's got these hard-hitting, subtle synths that wrap it up. 7/10.
"Now and Forever" is his farewell to Birdman without any hard feelings. It's got heart. I feel it. I hope you do too. "Company" is also one of those felt songs but then it breaks down and goes into Travi$ Scott's chorus that's fast and flowy.
"Jungle" is one of those big songs where he released a really well produced short film/ music video for. Gabriel Garzón Montano's hook "Rock me real slowly/Put a bib on me/I'm just like a baby, drooling over you/The things you do" plays softly in the background while Drake lays down some love. He loves his fans, his girls, his boys, his squad, his family, and everything.
I would give this album a 9.9/10.