Artist of the Issue: Annie Blackadar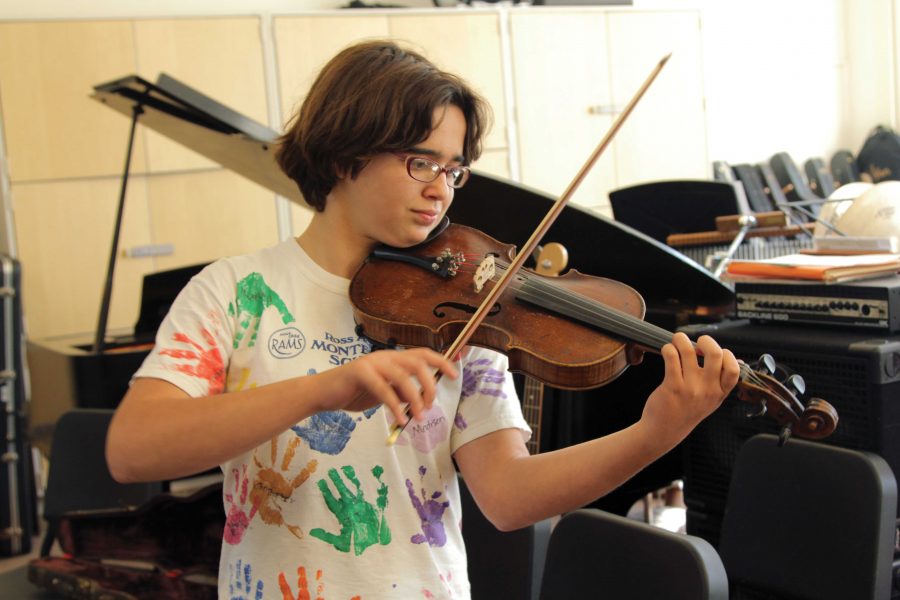 At the age of three, freshman Annie Blackadar entered the monumental world of music after observing a violin class. "There was a beginner's violin course after my [beginner's music] class  and I would stay and watch them," Blackadar said. "I asked my parents if I could play violin."
Her parents encouraged her and Blackadar began taking violin lessons at age five. She has gone through various music programs at her schools, received instruction and even taught herself other instruments and many pieces.
Almost 10 years later, Blackadar is skilled at playing the violin and has learned to play many other instruments. She focuses on the violin, the french horn, and the trombone, but enjoys playing other brass and string instruments as well.
Currently, Blackadar plays French horn for the Marin Symphony Youth Orchestra (MSYO) and is first trombone in her jazz band class. "Annie is a truly gifted and remarkable musician who has participated in MSYO for several years," MSYO Musical Director Ann Krinitsky said. "She began playing with us in seventh grade, which is unusually early for any student but particularly impressive considering the difficulty of her instrument, the French horn. She is singularly dedicated and motivated."
When she began to play the violin, Blackadar was taught using the Suzuki Method, a practice that encourages students to learn from the environment they are working in. "[It's] like a formative sort of method for violin learning and I had a teacher for those methods," Blackadar said. "I stopped that a year or two ago although I'm still taking [violin] lessons."
Blackadar picked up the French horn in fifth grade band class. She received her only instruction for the instrument in class but started to teach herself the instrument afterwards. Once she began, Blackadar was able to teach herself several Mozart Concertos and even won a scholarship, which was used for French horn lessons. From her French horn training, Blackadar was able to learn the trombone with ease, as the skills required to play the two instruments are similar.
Though learning the trombone wasn't difficult for her, she enjoys a challenge. "I like the challenge [of music]," Blackadar said. "It's my favorite part when we get a new sheet of music that we have to listen to and learn." She never considered learning the violin to be a challenge either, simply because she started playing at such a young age.
Aside from learning new instruments Blackadar also likes reading. "I like learning. I like reading science books, particularly physics right now and I've been teaching myself Latin for reading purposes," she said. "[Reading] is probably where I get most of my information. I've got the same problem as my dad, I'm just interested in too much stuff."
Blackadar comes from a family of musicians and thinks their influenced some of her in pursuit of music. With a mother who played the violin, a father who plays the piano, and a younger sister playing the trombone, the Blackadar house is full of music.
Blackadar plans to extend her instrumental abilities and learn to play more instruments, like the piano. She hopes that in the future she will be able to accompany others, conduct, and compose. "I balance it all well enough to pursue what I want to do," Blackadar said of her ambitions. "Music has never been my whole life, but it has been and will forever be somewhere I can go when I want to express myself."