Shane Kennedy nominated for NFHS California Coach of the Year Award
Varsity girls soccer head coach Shane Kennedy was nominated for the 2019-2020 National Federation of State High School Associations (NFHS) California Coach of the Year award by the California Interscholastic Federation (CIF) on Oct. 29.
 Each of the ten CIF sections in California nominated a select number of coaches for outstanding contributions to their sport. "These coaches were selected based on the positive work they have done with the student-athletes in their respective sports programs," CIF said in the announcement. 
Kennedy has led the varsity girls team for ten years, coaching the team to their first undefeated league season in history, Marin County Athletic League win, and North Coast Section Division II win last year. 
Although this is an individual recognition, Kennedy sees it as a team achievement, "I mean I'm happy that we're getting recognized and I'm getting recognized because you know we just have so many good kids and good families and you know a good administration; [Tam is] just a good school. So it's just another kind of a feather in the cap for the whole school and the program."
Kennedy believes it is essential to create an honest and inclusive team environment in which every player is able to participate and take responsibility for their development. "I mean everybody is a little bit different but I just really want the kids to take kind of ownership of what they do and feel that they can participate and change things themselves if they want to," he said.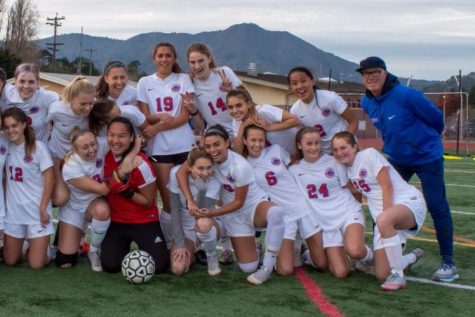 Senior and co-captain Kirsten Whetstone has been coached by Kennedy since her freshman year. "Coming in as a freshman it was really obvious that Shane values good team chemistry and that is really important, especially I think in high school sports because if you have a good cohesive team, then it really translates to your performance. And everyone is just working together, working for each other, the engagement is high," she said. "He just emphasizes in all his team talks and team speeches that we are basically like a family." 
Winning is certainly always a goal for Kennedy, but not at the price of lowering the quality of play. He believes an inclusive team will create winning in its own regard. "I just think what's important is that we develop a culture where everyone feels included … and that they feel free to play. I mean obviously, everybody loves to win but winning is a result of doing things the right way."
"We want to win, that is a big goal … but what's more important to Shane and what's more important to our whole team, as a result, is that we compete really hard. He'd rather have us play a really good game, a really technical game, a well-fought game, rather than us playing a poor, sloppy game, and win," Whetstone said. 
Even after athletes graduate, they often come back to visit Kennedy due to the strong bond created during the soccer seasons. "I enjoy most of all the kids and the families I'd say … I had two kids go through Tam and we love Tam as a family. So that's what I enjoy most you know the sense of community there," Kennedy said. 
Despite the uncertainties of the upcoming soccer season scheduled to start in the spring, Kennedy is optimistic for the future: "I'm looking at it as given the circumstances aren't necessarily very much fun, I'm looking at [this season] as an opportunity to do something different you know and have fun with it, enjoy it and have some new experiences." 
"Shane really demands the most of us but in the best way possible both on and off the field and it really translates to our performance in games," Whetstone said. "He's really made this Tam soccer team a special program." 
CIF will continue to make updates as coach nominees advance in the awards process.