Measure B fails, plunging district into $3 million deficit
Logan Little contributed additional reporting.
The failure of a parcel tax on March 3 has once again put the Tamalpais Union High School District in dire financial straits.
The tax, Measure B, would have added $190 per parcel to the existing parcel tax of $455. It had received 62.91 percent of the vote as of March 11, short of the two-thirds margin needed to pass.
Supporters of Measure B argued that it would have been crucial to maintaining quality of education. The measure's opponents argued that the tax was unnecessary or inequitable. What is certain is that the district now faces a multimillion-dollar deficit that will grow over the next few years, and balloon if the current parcel tax expires in June 2022 without being renewed or increased. (Measure B would have added about $6 million annually.)
At its meeting on March 10, the board of trustees voted to approve a list of layoffs and schedule reductions that will impact 11 teachers across the district. The layoff notices, which by state law must be issued before March 15, were necessary so that the board could make decisions on a list of proposed programming cuts, according to superintendent Tara Taupier.
The cuts in question would increase class sizes, prioritize classes that offer graduation requirements over electives, and limit students to taking no more than seven periods. They would also suspend the Team program at Tamiscal and suspend release periods for Global Studies and journalism. The layoffs, along with a continued suspension of the teacher leader program, would save the district about $1.4 million.
Those cuts will be finalized if the board does not change their decision by May 15.
No more teachers will be laid off this year, Taupier said, and neither will classified staff. But the district faces a $3 million deficit for the 2020-21 school year, and the measures taken on March 10 total less than that. The district will reconvene its Fiscal Advisory Committee to explore additional cuts that would make up the difference.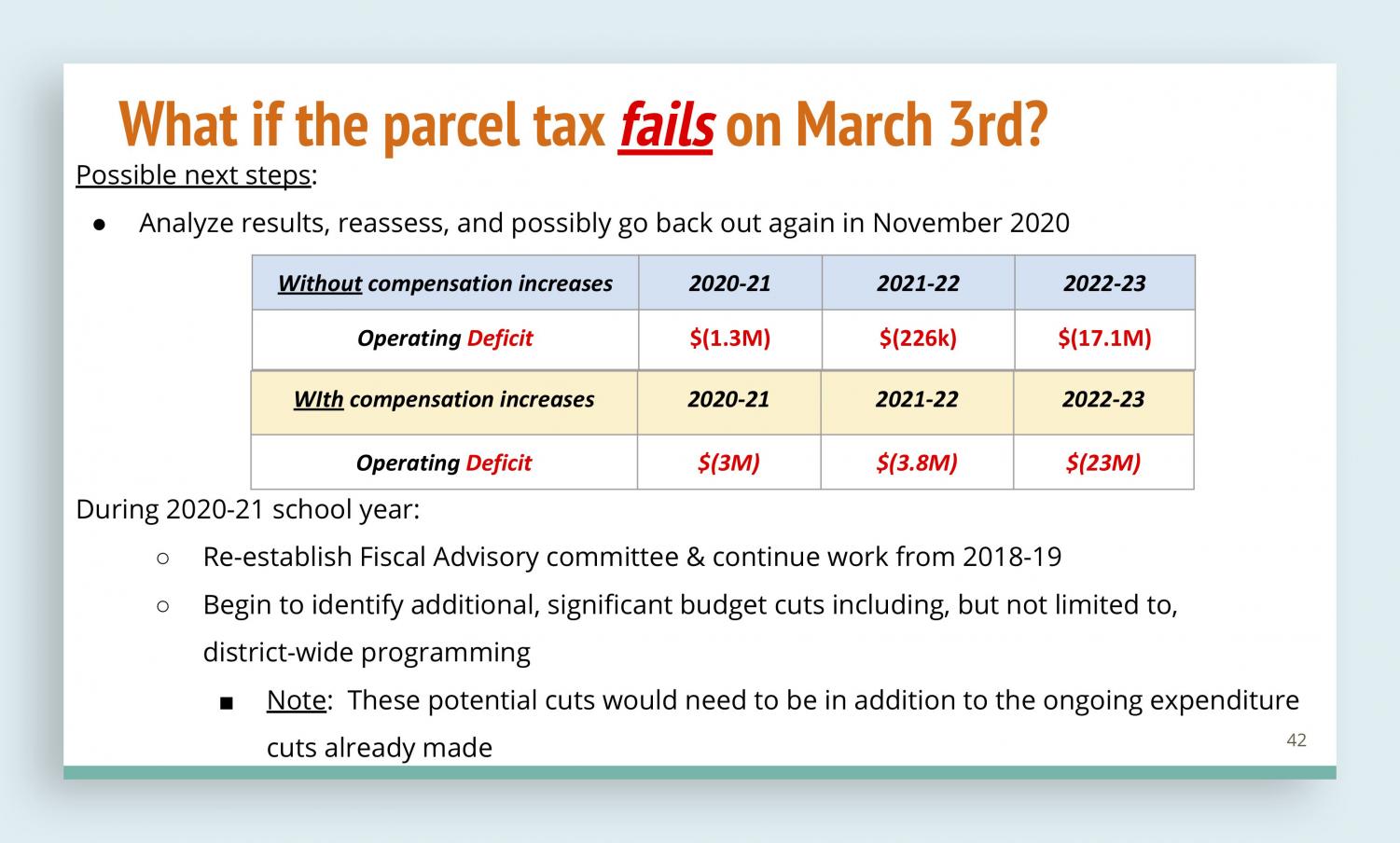 How will the cuts impact staff?
For many teachers, the possibility of future layoffs looms large.
Special education teacher Christine Costello said in an email that she was "absolutely concerned" about her position.
"I am a first-year teacher at Tam, and I want to continue to work here," Costello wrote. "This school has many amazing and qualified teachers who are already overwhelmed by large class sizes. Budget cuts would be devastating to staff and students alike."
The teachers at risk in the near future are likely those who have worked in the district for three years or less, administrators said, since the order of layoffs is determined by seniority. Tenured teachers are not yet at risk.
But some teachers expressed concern over the district's plan to prioritize classes that meet graduation requirements. For example, the adoption of a new district curriculum has made Chemistry a required course, and science teachers credentialed to teach Chemistry may be favored over science teachers with other credentials, according to science teacher Simon McBride.
"I've already had conversations with science teachers who are like, I will need to get credentialed in this, this, and this, so that if things go south I can jump to a different subject," McBride said.
Several teachers declined to be interviewed for this article because they were worried their jobs were in jeopardy. Others cited the drop in morale that has accompanied the layoffs.
"If the district comes to the staff and says, you know, we're going to treat senior teachers and new teachers differently, that creates a division with them. If they start doing layoffs, that creates a division," English teacher Austin Bah said. 
Science teacher Mary Wuerth called the outcome of the election a "slap in the face from the community towards all the teachers in the district."
She added: "There's some really good young teachers — who are excellent teachers — who are going to leave. And I think if they leave they're never coming back, because I wouldn't."
When the teacher contract is renegotiated this year, the board may choose not to give teachers the standard compensation for cost-of-living increases, which would reduce the projected deficit from $3 million to $1.3 million. But administrators have not yet indicated that they plan to do so, and the district's budget report operated on the assumption of a $3 million deficit.
Administrators emphasized their distress over the layoffs.
"Most of our budget is people," Tam principal J.C. Farr said. "When you start making cuts and for a significant amount, you're talking about cutting people. And my heart goes out to those that are impacted."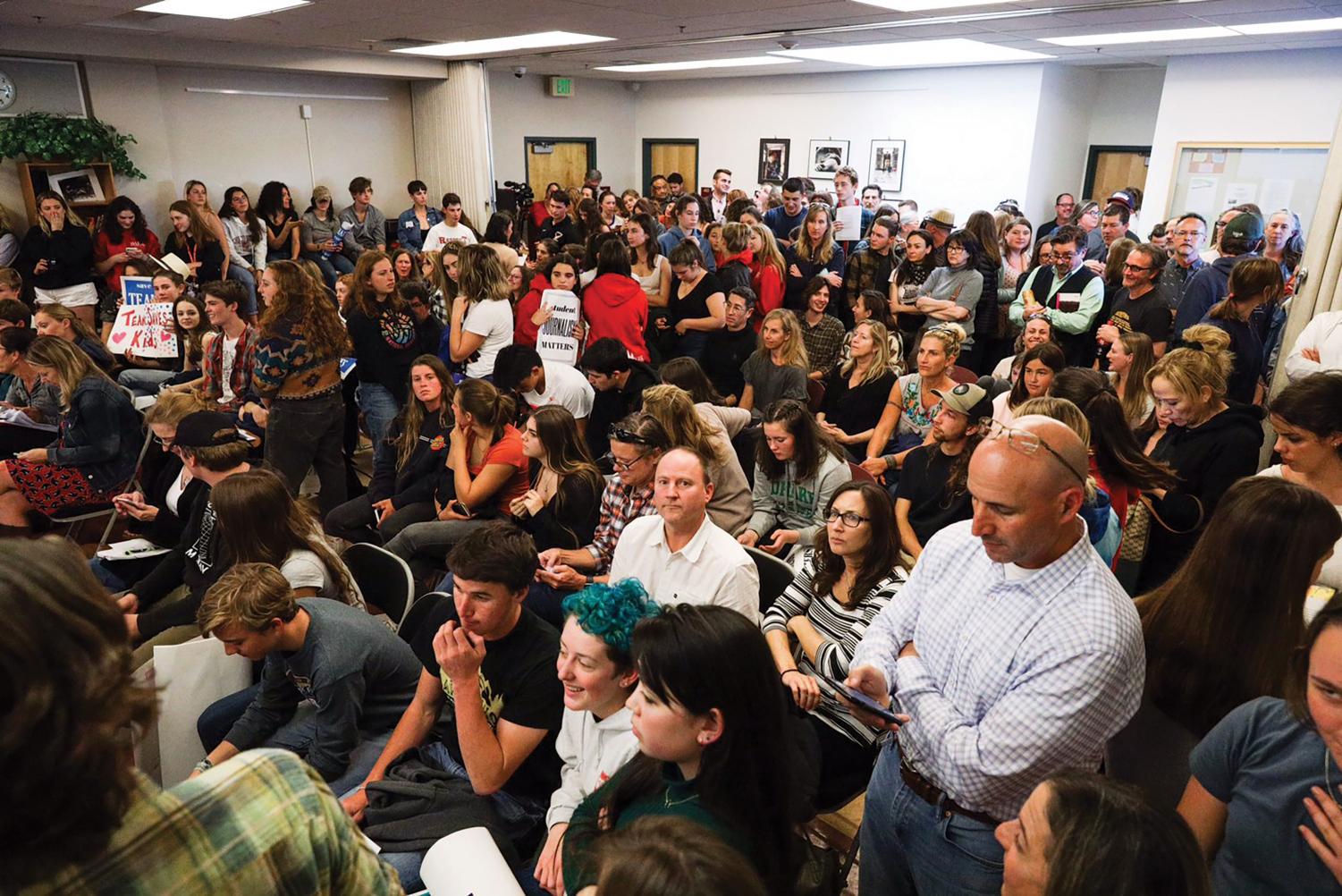 How will the cuts impact students?
At least 200 students, teachers, and parents attended the board meeting on March 10, where the board of trustees would discuss the $1.4 million in proposed cuts. (About half of the attendees were escorted outside by a fire marshal, who said that the room was filled past capacity.) Community members used the two minutes per person allotted for public comment to argue against suspending Team and the journalism release periods.
The 24 students in the Team program attend Tamiscal and go on backpacking trips, learn wilderness survival skills, volunteer, and work at internships. Supporters said that the program was invaluable, especially for students who had been underserved by traditional education.
Selena Marmolejo, a member of Team, credited the program with saving her after a difficult high school experience and the death of her father. If she had stayed at Redwood, Marmolejo said, "it would have been extremely difficult for me to come out of that dark place in my mind."
She added, "Team has taught me to be more open-minded, to appreciate everything and everyone around me. It has given life a new purpose for me."
Members of Team expressed skepticism over the board's decision to label the cut as a suspension of the program, suggesting that it would likely not be brought back.
"Team is truly the most revolutionary high school program I've ever seen offered to teens. It truly changes the trajectory of their lives," Team teacher Diana Goldberg said, according to a press release published by Team on March 8. 
If release periods for journalism advisers are cut, journalism students said, the print publications at Tam, Redwood, and Drake would be eliminated, and students would lose vital oversight and the chance for collaboration.
[Editorial: This is what the proposed cuts mean for The Tam News.]
Ryo Weng, an editor in chief of the Redwood Bark, questioned the board's suggestion to suspend release periods for journalism and Global Studies specifically, instead of all release periods in the district. He said that journalism release periods were necessary to "maintain the quality of content that we publish."
Bah, who was the adviser for The Tam News until 2006, and who successfully lobbied the district to give journalism advisers release periods, said in an interview that the extra time, which is separate from normal classes, had allowed Tam's journalism program to "go from unranked to about the top percent" of high school publications.
He added, "That history and legacy could disappear in a year or two without giving a teacher time to do that."
The list of cuts tentatively approved at the board meeting was created last spring by the Fiscal Advisory Committee, concurrently with the $2.8 million in cuts passed last June, which laid off librarians and custodial staff and increased class sizes.
Because teachers in California must be notified by March 15 if they will be laid off, and because Measure B failed less than two weeks before that, the district had to rely on the existing cuts instead of recommending new ones. Although that list had been circulated internally for about a year, it was not made public until after the election, Taupier said. 
She added, "When you start to make those available during the process, when you're identifying them, you start to get lobbied really hard. And sometimes it can be hard for people to be sort of impartial and think about the process."
Taupier acknowledged that listing potential budget cuts beforehand might have rallied community members eager to protect the programs "near and dear to them."
"For the next campaign, this is up to the board, but I think we would have to be very specific so people know exactly what's at stake," she said.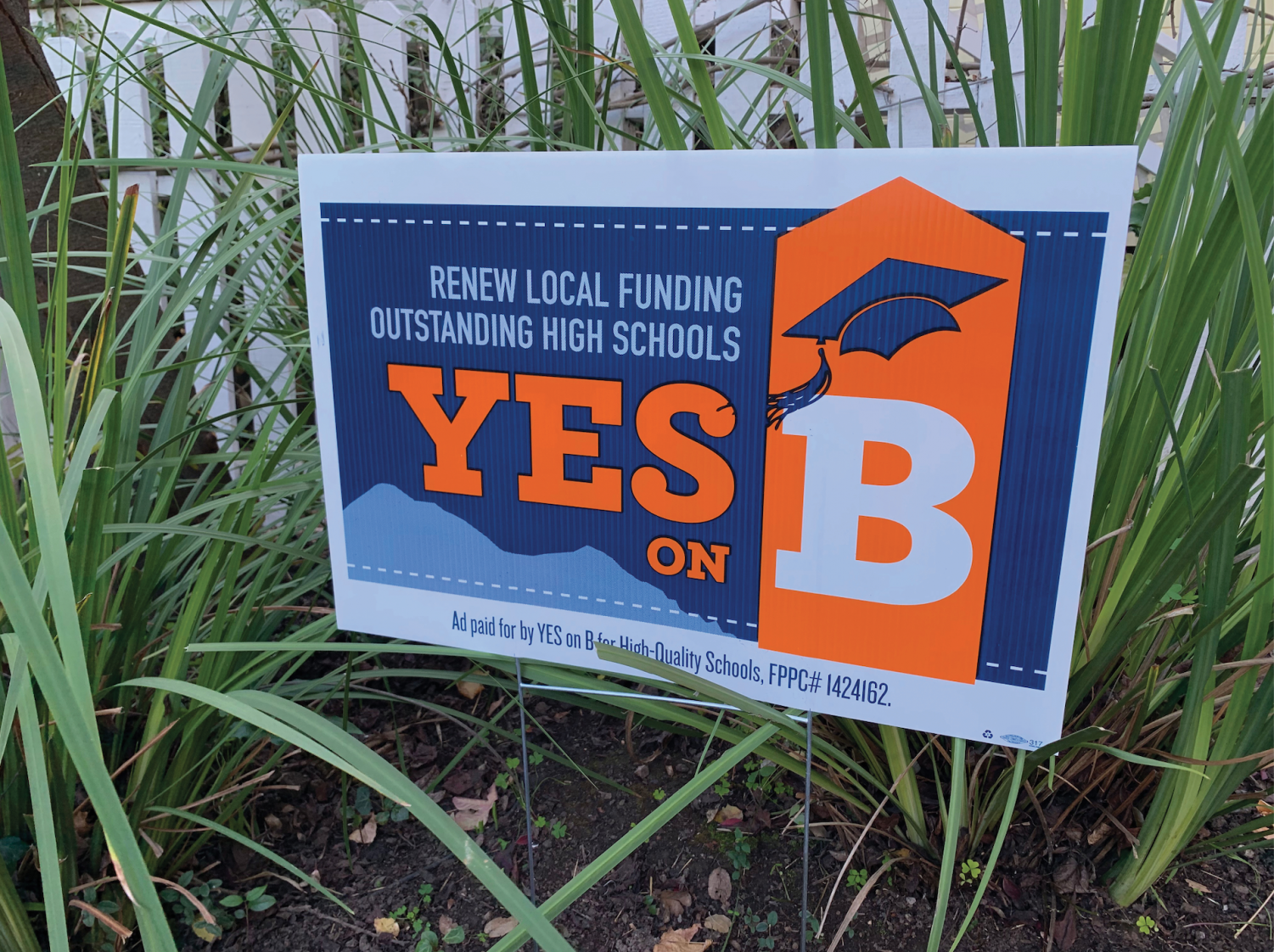 Why did Measure B fail?
The district will almost certainly put a second parcel tax on the ballot in November, the next chance it has to do so. It will need to change its strategy to avoid meeting the same result as Measure B.
In August, the district conducted polling that placed support for a $190 parcel tax increase, the amount Measure B would have added, at 66.6 percent. The same polling placed support for a smaller $90 increase at 70.4 percent. Taupier said that the board chose to pursue the larger tax because it believed it could increase community support before the election.
But that did not happen, for a number of possible reasons.
Before the election, Marin County's Coalition of Sensible Taxpayers (COST) issued a statement opposing Measure B, which it called "unfair, unaffordable, and unnecessary."
"While it is necessary to continue to have a parcel tax, and to extend it through time, we didn't think that the additional $190 annual increase with the 3 percent inflators over 10 years had been justified," Mimi Willard, the president of COST, said in an interview. She noted that COST had supported Measure J, the parcel tax that passed in 2018, but that the district had not sufficiently explained the need for another increase so soon.
And Measure B, like the current parcel tax, is flat-rate, which means that property owners are taxed the same amount regardless of the size of their property. (State law prohibits parcel taxes based on property value.) COST argued that made the tax inequitable.
Taupier said that the board of trustees had not considered a per-square-foot parcel tax because of legal challenges similar taxes have brought.
"There are now more of those that are being successful, and so the board might reconsider" in the future, she added.
Some teachers said that Measure B may have failed because of its timing.
"When you put a lot of money initiatives on the ballot at the same time, people feel like they're being asked a lot and they start to push back," Bah said, noting that voters also rejected Measure I, a sales tax that would have funded the SMART train system. Measure A, a parcel tax in the Novato Unified School District, failed to pass by a larger margin than Measure B.
"I think a lot of people, including teachers, took the community's liberalism for granted," Bah said.
And the results of county elections reflect a statewide trend. On March 3, Californians rejected over half of local tax and bond measures, as well as Proposition 13, which would have provided a $15 billion bond for school upgrades and repairs. Part of the reason may have been widespread economic uncertainty due to the coronavirus, analysts said.
It is unclear whether any of those factors will have significantly changed by November, but administrators made it clear that they could not afford to lose another election.
If a second parcel tax fails, "it'll be really, really damaging for this district," Farr said, "and for Tam. I don't really want to think about what that will look like."
"I'm still trying to wrap my head around it," Taupier said. "I was just so disappointed to be back here, exactly where we didn't want to be, because I think you guys deserve quality education and it doesn't feel good to not be able to do all of that."
And, she said, the district is "not out of options."
"I feel really hopeful," Taupier said. "I feel like maybe more people will know the urgency for the next campaign and be a little more involved."
[Editorial: Measure B didn't pass. We can't let that happen again.]