The budget aftermath
Last year's cuts have dramatically increased class sizes and worsened errors in student schedules.
A variety of scheduling issues impacted students returning to school this year, including free periods in the middle of the day, missing classes, and periods labeled "See Your Counselor" on their schedules, as well as being placed in class sections with unprecedented numbers of students. In the weeks since counselors and administrators have attempted to fix these issues by collapsing and adding sections and individually adjusting student schedules.
"When I received my schedule I not only had a 'See Your Counselor,' but had two history classes, AP US History and regular US History, and had been dropped from AP Statistics because they only had one class of it," junior Lucy Holden-Wingate said. After considerable effort, her counselor fixed her schedule, although she had to pick an alternate course to replace AP Statistics.
One of the primary reasons for the issues was the $2.8 million in budget cuts the Tamalpais Union High School District (TUHSD) passed at the end of last school year, due to increased student enrollment and growing pension rates pushing the district toward insolvency. The cuts included reducing the number of teachers and increasing the number of students taught by the remaining teachers. Teachers are working with the maximum amount of students legally allowed by their new contract, resulting in increased class sizes and the collapsing of classes that have insufficient enrollment.
The maximum class size for most subjects is 32 students, according to counselor Alex Hunt. However, there are exceptions to this depending upon department contracts. PE classes, for example, are capped at 40 students, and Chemistry classes can enroll at most 28 students.
"This year with the budget cuts, they maxed out. So say there's 20 students that want to take a class. We're not gonna run that, because financially that's irresponsible," counselor Scott Birkestrand said.
Teachers and students have experienced a variety of consequences as a result of the class enlargement. Science teacher Simon McBride said his Chemistry, Honors Chemistry, and AP Chemistry classes were all full.
"It makes a difference because you just physically don't have the time to sit with each individual student. The noise level goes up a bit more and the disruption goes up a little bit," McBride said. "Also, resources are tight in the lab. It's a big room, but when there's a lot of kids it feels like there's another set of materials you need."
These budget cuts also affected the Guitar/Bass class. Last year, the elective was split into two classes. Each class had six bands per period and three to five members in each band. This year, there is one class, and it has 55 students.
The large class size increased the average number of members per band to between six and eight. As a result, the 5-by-8-foot rooms meant for each band to separately practice in became more crowded.
"The small practice rooms make it hard to be productive in class. There's not enough space to fit six people and instruments into the band room," senior Quinn Maynard said. "I usually sit on the floor because six chairs can't fit in the room with all the people and instruments already in the room."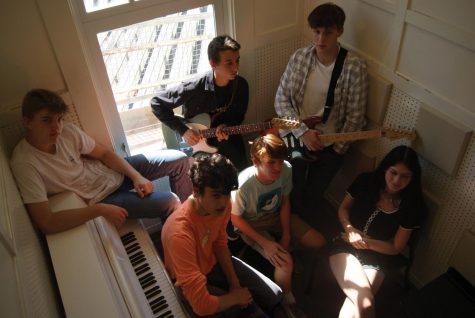 Despite being associated with the schedules by most of the student body, counselors are not solely responsible for creating schedules. The process is a group effort between counselors, teachers, and school and district administrators, according to Hunt. After the information of cut classes is shared with the Tam administration in spring, they draft potential schedules to create their master schedule of class periods.
This, however, is unable to account for late enrollments and information which the school receives towards the end of the school year, such as math placement for feeder schools and students who are accepted into programs like AIM or TEAM. As a result, class enrollments changed immediately prior to and even during summer vacation, when counselors are not contracted or allowed to work on the schedules, according to Birkestrand. This is a reason for the movement and collapsing of classes which occurs at the beginning of each year.
This year the district cut some of the classes which the school had planned to run, according to Birkestrand, forcing administrators and counselors to put more students in fewer classes.
Counselors return to school only a week and a half to two weeks before students do, according to Hunt, at which point they must fix all of the computer-generated mistakes, as well as complete other back-to-school work.
"We as counselors get to go in and look at all the errors … And then students get their schedules and chaos ensues," Hunt said.
However, both Hunt and Birkestrand believe that this year was actually more organized than in years prior.
"I think this year was more methodical, and therefore probably took some more time … Previous years have actually been a lot more chaotic, we just went at a faster rate because we were doing everything at once," Hunt said.
This year, counselors ran the process for making scheduling changes at the beginning of school differently than they did in previous years. Students with critical errors were given priority and allowed to meet with their counselors first. However, students with preference-based requests were not able to speak directly with their counselors. Instead, they were directed to fill out a Google form explaining their issue, which, according to Hunt, counselors started looking at two or three days into the school year. This change was based on feedback from last year and was unrelated to the budget cuts, according to Birkestrand.
"I think our communication actually has increased more this year than it has in years past, only the messages are things that people don't want to hear," Birkestrand said.
All of Tam's assistant principals (APs) came to this school in 2019. Some APs oversaw the entire schedule creation process, which included connecting with feeder schools, teachers, counselors, and district representatives in order to be sure that everyone's needs were met. According to Birkestrand, they did an excellent job in putting together the schedule.
Many students had a different perception. Of 30 seniors, juniors, and sophomores interviewed for this article, 19 students said the process of obtaining and fixing schedule errors was worse than last year, and 11 said it was the same. No students characterized the scheduling process as better.
Many students were frustrated with the long wait times and extensive process required to repair their schedules.
"I spent around five to six hours waiting for the counselors over a two-day period," Holden-Wingate said. "This isn't the first time that my schedule has been messed up. I've been in the counselor's office the day before school every time of the three years I've been in high school."
Some scheduling issues could impact students' academic futures.
Senior Charlie Osborn, who signed up to take Honors Physics and got one of the highest scores on the entrance test, received a schedule without the class and later learned she had been unenrolled.
"It's just complicated because some colleges require the class and others recommend the class if you are going up for an engineering major," Osborn said. "When I asked why I wasn't enrolled in the class, they said the class was full and that they couldn't guarantee anyone a spot."
Osborn is now attempting to take the class at College of Marin.
"What I found very surprising was that I had a friend who also was taking Honors Physics, though a week before us getting our schedules her counselor sent her an email saying that she got kicked out when I had gotten no email or warning," Osborn said.
The counselors and administration have already begun discussing the scheduling process for next year. Currently, they hold bimonthly conversations about the schedules and what they will be able to improve upon, particularly given the issues that arose this year.
"We're going to change it up this year. Just like we changed it up the year before. So that comes from meetings, meeting with admin, talking with students, coming back to the drawing board," Birkestrand said.
Saranyu Nel contributed additional reporting.