Barbara Owens: We owe it to Owens
Most students like to brag about the fact that Tupac Shakur went to school here, but we don't gloat about the accomplishments our staff has achieved over the years. Many don't know that Tam was the first school in California to distribute condoms to students, or that teachers from Tam helped to create the ideology behind core programs across the nation. However, there are some who don't just know these things, they lived through them. In the last fifty years, there have been nine presidents and five major wars, and in this time one woman has dedicated her life to our school district. It's been half a century, and Barbara Owens is still making influential changes to our community.
Owens began her journey into education in 1968 as an English teacher at Drake High School.
"I was 22, I was [just] a girl. I grew up here personally and certainly professionally," she said. Owens always knew she wanted to become a lifelong educator. "Honest to god, I knew [I wanted to teach] when I was very little … to me school was this magical wonderland of experience," said Owens.
Starting school at the age of four, and only speaking Italian, Owens reminisces about how she fell in love with the classroom from the start. "Those of us, when you get grabbed by the idea of [teaching], it just stays with you for the rest of your life. I mean just look at me I'm still here doing this and I love it." Owens then moved to teach a special day class at Redwood. "There were only two special day programs in the county then and I was the first teacher." Owens always looked for a challenge in her teaching, finding classes with students who needed a little more help. However, she didn't stay at Redwood for long."They wouldn't grandfather me with a credential so I left Redwood and came down here to Tam to teach English," she said. She talked with a smile on her face at the warmth and community she felt when she first walked onto Tam's campus.
"I came down here and immediately fell in love with it because it was welcoming… The students were always laughing, it was a very different culture than Redwood." Owens also wanted to come to Tam because she was interested in what the Tam English department was doing. "[I also decided] that I wanted to teach writing and at that time, [in 1978], this school district was at the forefront of what became the national and international writing project," she said. The core programs that we now have today came from this project, and it inspired schools around the country to implement similar programs. "[It] had consequential events for the teaching, of writing and reading as well and it became a national project in terms of how you do writing from drafting all the way to publication," she said. There were many things about Tam that Owen's reminisced fondly of, but one kept coming up: Project Breakthrough. Project Breakthrough was a group of events and lessons that staff and students put on for the community to talk about race and figure out solutions to those issues at Tam.
"It was seminal in terms of improving the culture at Tam [through]quality interaction. Kids developed relationships between races that lasted for the rest of their lives." Project Breakthrough had a huge effect on Owen, teaching her lessons and skills that she kept with her throughout her entire career. "It was such a pedagogical influence on my career as it was as I hope on my students." The program was considered successful, however, it eventually dissipated as most programs do. In 2017 the Tam administration held a Breakthrough Day in celebration of the 50th anniversary of the start of the original project breakthrough, and have since been attempting to organize another. However, plans have fallen through for various reasons. Owens has been very curious about how this year's Breakthrough Day planning has been going and offered her help.
While at Tam, Owens taught many notable alumni, including current staff such as Luc Chamberlin, Zachary Gilmour, Ralph Wilson, Ben Cleveland, and Mitchell Perkins, as well as the hip-hop icon Tupac Shakur. She recalled a moment while teaching Othello in an English class with Tupac when he read the play aloud. "I stopped the class and I said to my students," she paused, "I said, 'You will never hear an Othello read as well as you have just heard it now.'" She highlighted Tupac's talent that he showed in the classroom, rather than talking about the fame that he gained later in his life."When I heard that he had been killed  I remembered the moment that we had in class together where he was so brilliant because he was a good student."
Within her time in the district, Owens has seen the hardships and trade-offs that teachers have had to face."One time my husband and I had a total of five jobs a piece in order to work here and that has not changed [in the community.] I think for some it has gotten worse," she said. While teaching at Redwood, Owens felt like she needed more of a challenge, so she chose to leave and teach at San Andreas High School, the district's continuation school.
"I was getting burned out so I thought 'let me get back the students I started with – kids who have challenges,'" she said. San Andreas was much more demanding of Owens, as it was a different kind of teaching that she hadn't experienced yet. "It was horrible… You would have thought I never knew how to do the work." Despite the difficulties, Owens saw the impact she was making. "The kids were great, they were in tremendous need, a lot of addiction, lots of mental health issues, and they were angry and upset, I got it but it made it really hard." Many of the students targeted their aggression at Owens. "I had students there who were so angry about the way they had experienced their high school experience and Redwood was the target for all their anger." But after her retirement, when she would see them around, outside of school, their appreciation for her was clear. "They came over to me 'Mrs. Owens!' and they gave me big hugs and kisses."Owens retired from teaching in 2008. However, that wouldn't be the last the district saw of her.
"When I stepped away and I retired, people kept coming to me in the gym, in the grocery store: 'How are you? Would you run for the board?' Oh, are you kidding me? I was like, 'Why would I want to do that?'" At this point in time, the district was in turmoil over questionable reforms the embattled board and administration were trying to implement via an outside contractor. "What I saw going on here in the district disturbed me so much. I had a discussion with my husband and my family and, well, my husband said, 'Do it, but if you don't do it then stop bitching about it.' So I did it."
Owens won the 2015 School Board Election and is currently sitting as the clerk on the Tamalpais Union High School District's board of trustees. Now, in the midst of the budget crisis, Owens is reminded of similar experiences in the districts' past. "In 1980 we were going through the same thing we are now. I was laid off by one of my all-time favorite superintendents." Owens said. As a current board member, she is trying to think about the effects on each individual person, in addition to the community as a whole. "Being laid off, you never forget it. It really changes your life and it did mine," she said. Owens had to do what she needed to do to make ends meet in 1980."I went to cosmetology school. I'm two months short of my hairdresser's license," she said. As a current board member, Owens is very active in the Joint Legislative Action Committee and is working with schools to improve attendance. "I'm concerned that we've got great programs here, but if a student's not here I can't assess their wellness and I can't assess their performance." Owens is aware of the battle ahead with the district finances but is confident that the district will come out strong. "We got difficult times ahead, but you know we have overcome some challenging times already."
Throughout our conversation, Owens never once credited herself for any of her  accomplishments, but instead gave thanks to the students. She stressed how proud she was to have taught at these schools and meet the people she did. "I think the teachers here that I knew and worked with and the ones that I'm meeting now have a really tremendous passion for caring about kids and caring about their subject matter. You can't beat that."
About the Writer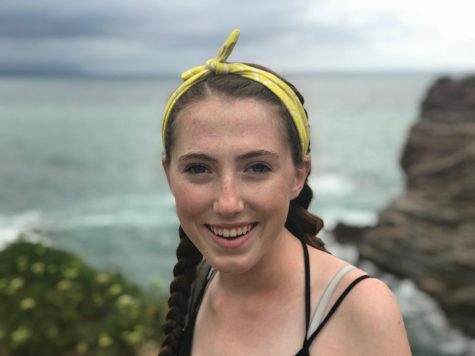 Kara Kneafsey, News Editor
Kara Kneafsey is a junior at Tamalpais High School and is a news editor for The Tam News. In addition to Tam News, Kneafsey is the ASB secretary, student representative for Tamalpais on the TUHSD board of trustees and apart of link crew, yearbook, soar and the girls golf team. Outside of school Kneafsey enjoy baking, fundraising, volunteering and going on adventures with friends.