Marin residents attend Black Lives Matter protest in Marin City
More than one thousand Marin County residents gathered in Marin City on Tuesday, June 2 to protest against police brutality and racial injustice. The march was attended by people of all ages from Marin City, Mill Valley, Novato, San Rafael, and Sausalito. 
The event was sparked by the recent killing of George Floyd at the hands of Minneapolis police officers, which ignited nationwide protests in support of the Black Lives Matter movement.
"We are marching because we are sick of the police and government using their power to belittle us and soon make us extinct," junior Nancy Hoang said at the protest.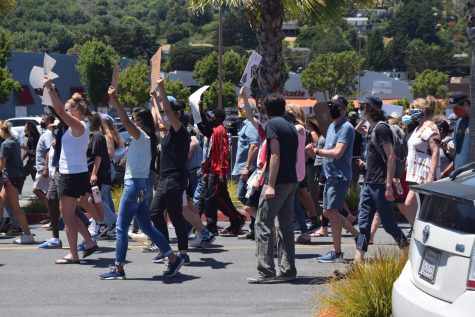 The peaceful protest was organized by sophomore Mikyla Williams, who is an editor for The Tam News, Lynnette Egenlauf, and Ayana Morgan-Woodard.
"It all started with a text on Friday night. [Williams] text[ed] me, her words were, 'Paul is there anybody doing anything, are we gonna have any sort of protest?' … And now it's Tuesday," Paul Austin said at the protest. "Look around and see how many people are here." Austin is the founder and CEO of Play Marin.
Protesters met at the Gateway shopping center at 1:30 p.m. and then marched to the 100 lot of Drake Avenue, where they gathered in front of the Bridge the Gap building chanting, "No justice, no peace."
Several community leaders spoke about police brutality, white privilege, immigration, systemic racism, and the importance of voter participation in November.
"My body is shutting down from fear and pain. From memories of our childhood. I need us, everyone, to know that we are special!" political activist Sekyiwa Shakur said.
Amber Allen-Pierson, a leader in Marin City and the head of Tam's Wellness program, spoke about what white people in Marin can do to have a broader lasting effect. 
"Use your resources and bring in your lawyers. Sue your own interests. And here's where it would benefit not just the people here, but if that happened in this small part of the world, we are setting a precedent that can lead the rest of the nation in change and impact that might make us safer in the streets … We need our own economy," Allen-Pierson said.
Tam principal J.C. Farr attended the protest and expanded on what "sue your own interests" meant to him. 
"How do you utilize your privilege in your position to help people of color gain access to the same privileges? And that means, yes, there's a sharing of the power that exists. It's a recognition that there's an imbalance, there's an inequity. That there is a uniqueness to society and so you can either act in ways that preserve the power that you have or you can act in ways that share the power that you have," Farr said. 
Many teenagers, including Tam students, attended the protest, holding signs with phrases such as "Black Lives Matter," "Silence = Violence," "Stop Police Brutality," "Time for Change," and "Justice for George."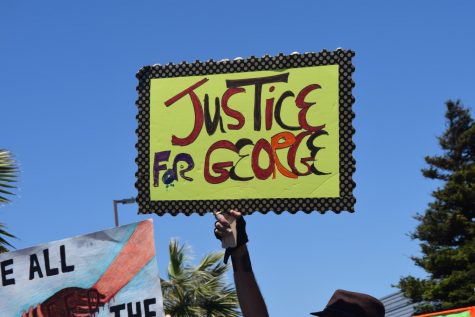 "My goal in protesting was just to show others that I believe that black lives matter and there needs to be a change. I don't think it's right so I'm going to be there to help in any way I can to create change," sophomore Billy Kuhns said. 
The presence of law enforcement officers at nationwide protests has caused unrest and violent clashes between protestors and police officers. There was no violence or rioting at this protest. Marin County sheriff Robert Doyle emphasized that the police officers stationed around the area of the protest were there to ensure the safety of the crowd as they marched across the street.
"In or around the march [there were] about 15 or 20 [officers] and that was just to make sure that the people that were marching were able to march and not be interfered by people that might have a different interest in mind," Doyle said. 
"The police were good. There was no issues and when someone had a medical emergency they stepped in fast and got that person into the care of paramedics," senior and Black Student Union president Garnett Silver-Hall said. 
Honor Knutson, who has lived in Marin City for seven years and has served as a police officer for five years, spoke at the protest.
"Even though I know why I became a police officer was to make [an] impact and do good, I do know that there's those who wear the same badge as I do who have ulterior motives and have evil in their hearts," Knutson said.
Protesters believe that these marches will lead to a more thorough awareness of the racism and challenges the black community and people of color face. Some speakers encouraged people to have conversations around race and privilege and donate to organizations that fund the ongoing efforts to improve racial equity in America.
"I think it heightens awareness, I think there's a call to action. It's just a show of solidarity and support. It shows that we are standing together and that it's meaningful to a lot of people. I think it's a show of, that people are really invested with their time, their energy, their voice, lending it to … trying to move forward with a solution," Farr said.