Exclusive
Public school is for everyone. Tam's academic programs may not be.
According to senior Chloe Le Lievre, the Conservatory Theatre Ensemble (CTE), Tam's drama program, has had a profound impact on her high school life and education.
"[Drama] is about more than just putting on plays," Le Lievre said. "From doing high school drama I have learned more about time management, working together, being a leader, and many other life skills."
For many students, the most profound learning experiences occur outside of the traditional classroom setting in academic programs that provide a chance to engage in project-based learning.
"Coming from Greenwood, a tight-knit community is something I felt I was lacking my first two years at Tam," said senior Kai Kohlwes, who is a part of The Academy of Integrated Humanities and New Media (AIM), a filmmaking program at Tam for upperclassmen. "The biggest thing [AIM] has given me is a like-minded community where peers work together for a common goal."
Some are able to acclimate to the high school environment easier than others, often as a result of where they come from.
"When I think about our feeder schools, there is disparity in the experiences that students have before they arrive at Tam," principal J.C. Farr said.
CTE, AIM, The Tam News, Leadership, and Link Crew all provide students with unique benefits to their high school experience, including a strong sense of community and support, according to many students interviewed. However, data provided to The Tam News by the Tamalpais Union High School District (TUHSD) reveals that all of the aforementioned programs struggle to maintain enrollment that accurately reflects the diversity demographics of the school.
Students who come to Tam from the Sausalito Marin City School District (SMCSD) tend to be underrepresented in the five programs. The SMCSD is a district that serves mostly black and Hispanic students, as well as a large contingent of students from low-income families, and has a history of controversy surrounding its management. This includes a report from the California Attorney General in December 2018, which claimed that the SMCSD violated anti-discrimination laws in its allocation of resources to the two schools in the district, Willow Creek Academy and Bayside Martin Luther King Jr. Academy.
From administrators to teachers to some students, conversations around improving Tam often focus on closing the achievement gap between students from the more affluent Mill Valley and students from Marin City. Many program leaders and administrators said they are making an effort to increase the engagement of Marin City students with the numerous available academic opportunities.
If there is greater diversity in Tam's academic programs, then more students will share in the sense of belonging and fulfilment that these programs provide, as detailed by Le Lievre and Kohlwes. The current data on the demographics of these programs suggests that minority students and students from Marin City are underrepresented, and subsequently many of the programs, as well as the administration, are seeking solutions to this problem.
The Baseline: Tam High General Population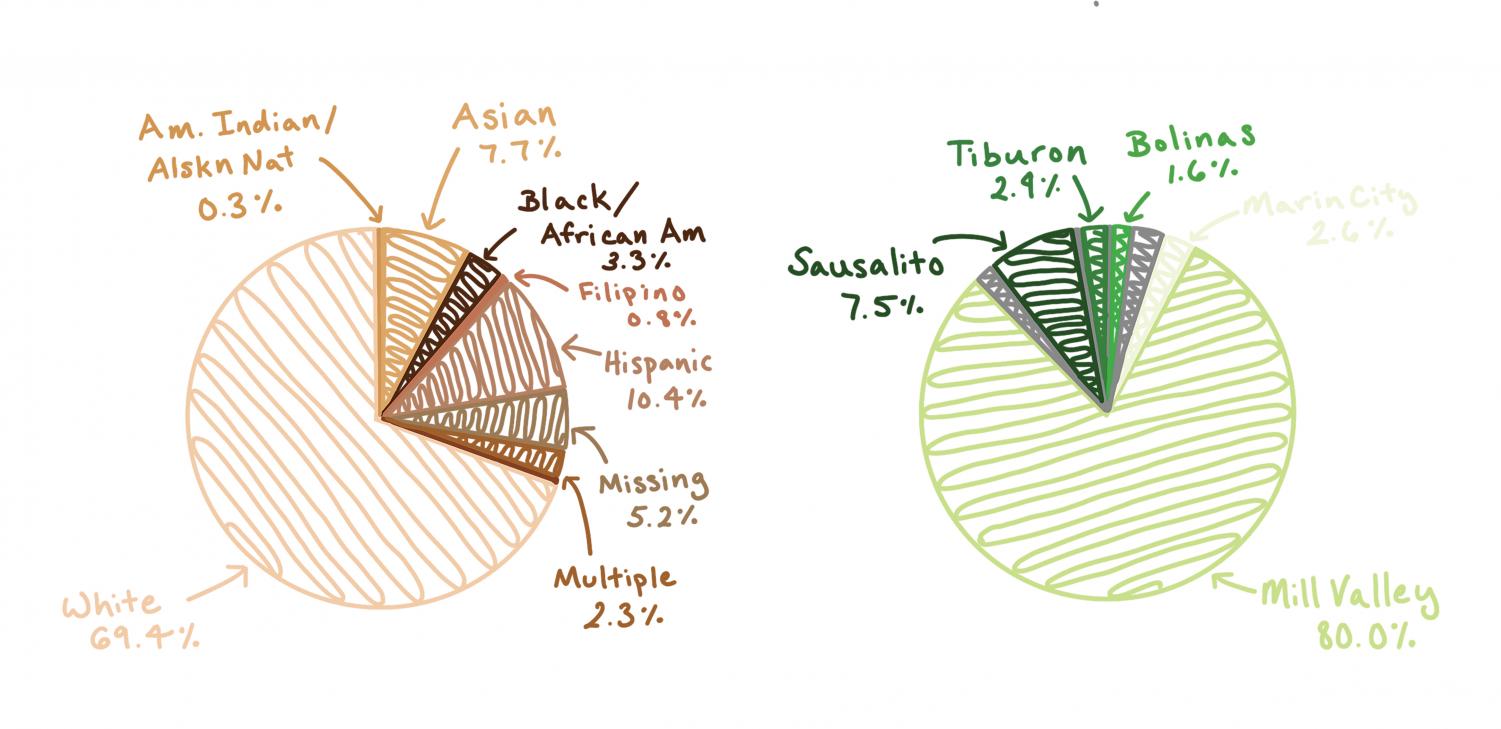 The demographic data provided by the district provides a baseline for the analysis. The data is based on self-reported information on student registration forms. Of all the students at Tam High, 80 percent of students live in Mill Valley, 7.5 percent live in Sausalito, 2.6 percent live in Marin City, and the remaining 9.9 percent are categorized as "miscellaneous," a reference to Bolinas-Stinson and a few other cities. With regards to ethnicity, 69.4 percent of students are white, 10.4 percent are Hispanic, 7.7 percent are Asian, 3.3 percent are black, and the remaining 9.2 percent other or unreported.
About 10 percent of students have Individualized Education Plans (IEPs), which indicates special education status, according to special education teacher Preston Picus. Special education students are also underrepresented in these programs.
The programs below are not addressed in any particular order, but each program is discussed in isolation. Every program has a unique student makeup, requiring varying levels of commitment, and selects and/or recruits students in a different manner.
---
CTE
The drama program, CTE, includes multiple courses, some advanced and some for beginners. CTE is non-audition, so any student can join the program. The stage plays put on by CTE are entirely student-run, from the acting and directing to the behind-the-scenes work. Freshmen and sophomores participate in productions designated for beginning students, with support and guidance from advanced students, and in some instances, underclassmen can be a part of main stage plays as well.
"We do everything from designing the lights to managing our donations via quickbooks," Le Lievre said. "CTE is what you make of it.You can choose to focus on acting, tech and design, stage managing or directing. Every possible aspect of working in a theatre company is covered in this program and it's all run by students and that's what makes it so amazing,".
Despite CTE's status as an open-enrollment program, some groups remain disproportionately represented. White students are overrepresented by 11.5 percent, while both black students and students from Marin City are slightly underrepresented by 0.6 percent and 1.2 percent, respectively. Students with IEPs are slightly overrepresented by 0.5 percent. Hispanic students are more heavily underrepresented in CTE, as 10.4 percent of Tam students are Hispanic, compared with only 1.4 percent of students in CTE.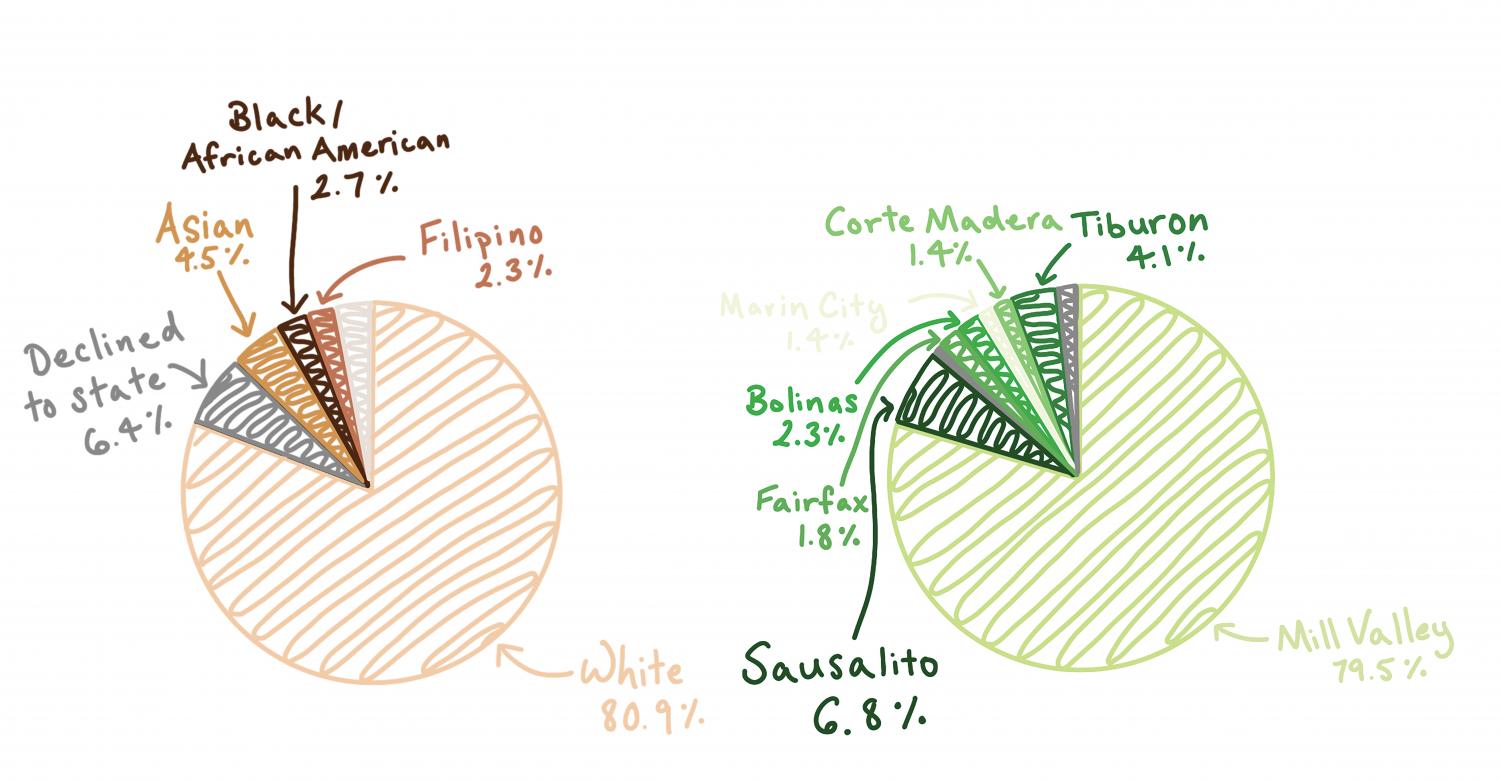 Drama teacher Ben Cleaveland attributes some of the underrepresentation to scheduling conflicts. "We're getting fewer students from Marin City, because of AVID," he said. "And it's not just AVID, but it can be a challenge for students in Academic Workshop to fit in their art course."
Both AVID (Advancement Via Individual Determination) and Academic Workshop are designed for students who may need additional academic support. Nationally, a vast majority of AVID students are of a low socioeconomic status and tend to be ethnic minorities, according to the AVID website.
Cleaveland emphasized his appreciation for academic support classes, while noting that it is sometimes difficult to get those students involved with the drama program. "I could offer an 8th period after-school beginning drama class, but then it might conflict with their sports and transportation," he said.
There were preliminary steps towards organizing a stage play with Tam students who grew up in Marin City, whether or not the students were enrolled in drama, as a way to involve Marin City students in the drama program. However, these plans never materialized, and the play was never put on.
The Tam News
The Tam News is a student-run, multimedia journalism publication that covers topics and events that relate to the Tam community. There are two courses in the journalism program, one for first-year students — Nonfiction — and the other for returning students — Advanced Journalism. The students in Advanced Journalism are responsible for the production of The Tam News magazine and website, and many hold leadership positions within the publication.
The journalism program is an open-enrollment program, as Nonfiction is open to all students, and Advanced Journalism is open to all students who have taken Nonfiction. After completing Nonfiction, students can apply for section editorships, leadership roles where they oversee the content and production of a specific section of the publication. After completing at least one year in Advanced Journalism and one year as a section editor, students can apply to be an editor in chief, where they oversee the content and production of the entire magazine and online publication.
The demographics of the Advanced Journalism class are difficult to gauge, as there are only 32 students in the class and four students declined to provide the district with their racial identity. However, there are no black students in the Advanced class, and there are no students with IEPs. Approximately 90 percent live in Mill Valley and the remaining two live in Sausalito.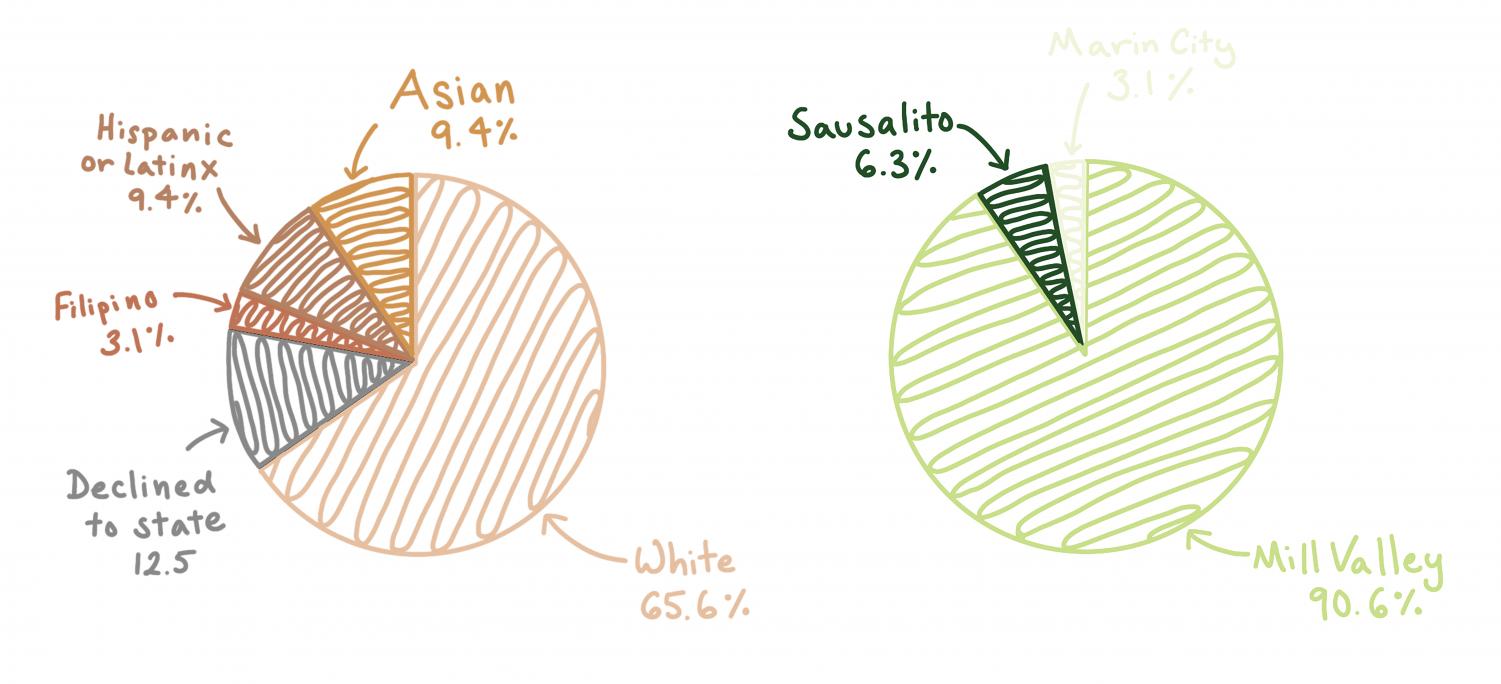 In Nonfiction, which has 109 students currently enrolled, the makeup is more diverse. Black students are overrepresented by 2.2 percent, as are students with IEPs by approximately 2 percent, and students from Marin City are proportionally represented. However, white students remain overrepresented by 5.8 percent.
According to English teacher Jonah Steinhart, adviser for The Tam News, the publication has struggled with diversity since his tenure as adviser began over a decade ago.
(Steinhart, who adheres to the newspaper adviser standard of avoiding the conflict of being quoted or mentioned in the publication he advises, agreed to be interviewed for the first time because he is a subject of this article.)
Steinhart said the program remained starkly homogenous for many years despite some efforts to diversify the staff. Over the last three years, he and the journalism students have tried a new recruiting project.
"We did collaborations with Willow Creek, Bayside MLK, and Bolinas/Stinson. We bring them on campus, get them in the journalism room, pair them up with experienced journalism kids, and have them write articles and publish them," he said. "That was one of the things that started to give us traction."
Additionally, the journalism program started using Nonfiction as a beginner class which enabled students who enrolled in the course to receive a year of UC English credit. "The really big game-changer was starting to offer Nonfiction again at Tam," Steinhart said. "Kids, especially juniors and seniors, are able to take Nonfiction as their primary English class and also be a part of the staff and have all of their work go in front of the senior editors, and in a lot of cases get published. That has significantly increased the diversity of the program."
But there are still discrepancies in diversity between the two parts of the publication, with Nonfiction being more diverse than Advanced Journalism. Steinhart attributes these discrepancies to the recent increase in diversity brought on by the collaborations with the 8th graders and the changing of the beginner journalism class to Nonfiction. "We're just now starting to see some of the sophomores and freshmen who participated in the collaboration in eighth grade coming into the program. A real test will be to see if they proceed into Advanced Journalism," he said.
Leadership
Leadership is a program comprised of students who are elected by the student body, as well as those who are chosen from an application process and interview. Leadership functions as the school's student government organization.
According to Leadership adviser and social studies teacher Nathan Bernstein, the program has been active in trying to address underrepresentation, and while progress has been made, the issue still persists. "I think right now we've done a lot of things [to increase diversity], but I always feel like we can do more," Bernstein said. "We still have a long way to go."
The data does suggest some positive trends in Leadership, as white students are only slightly overrepresented by 3.3 percent, and black students are overrepresented by 4 percent. However, Hispanic students are underrepresented by 8.6 percent, as are students with IEPs, by 8 percent.
There is also only one student from Marin City currently enrolled in Leadership. Bus 17, which leaves at 6:30 a.m., is the only bus from Marin City that arrives at Tam before 7  a.m., the time Leadership students need to be on campus three times a week, as Leadership is a zero-period class.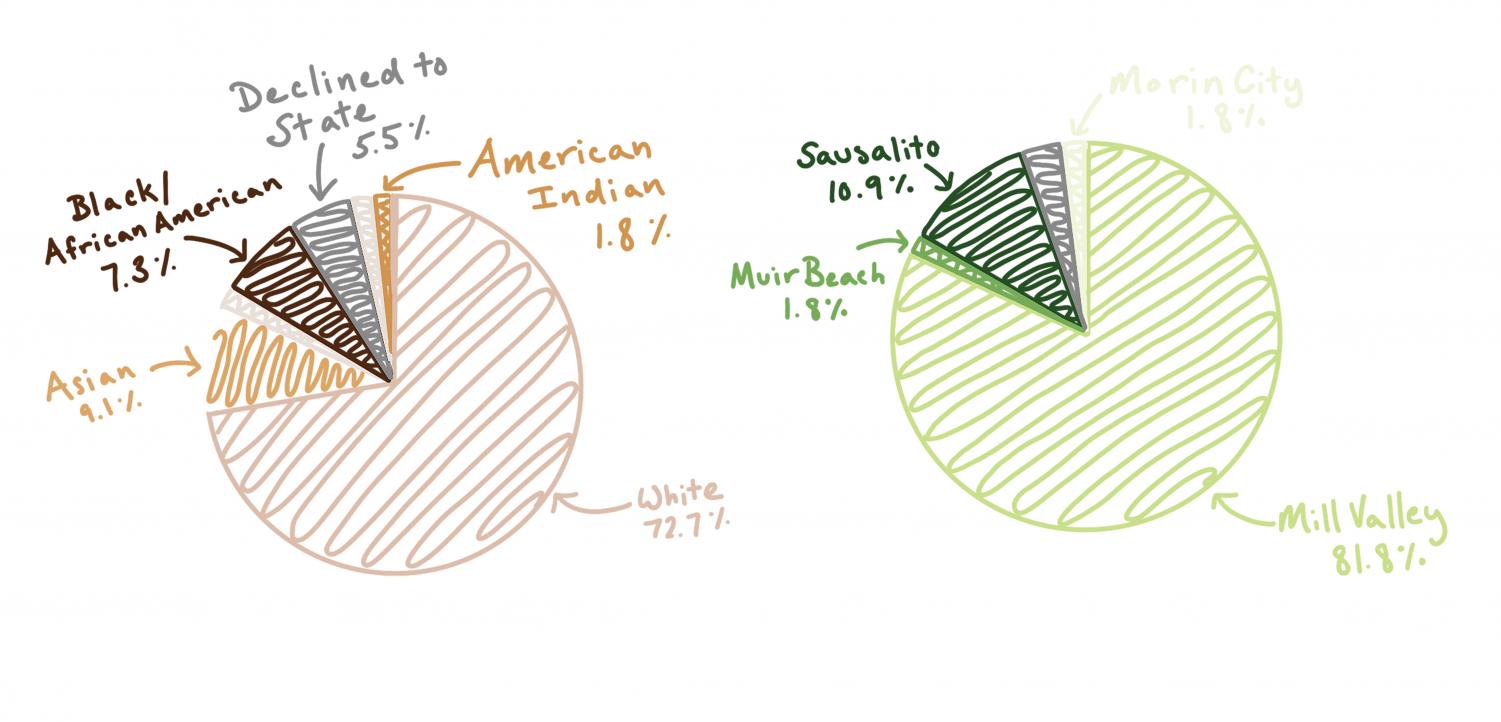 Bernstein detailed the ways in which Leadership has recruited underrepresented groups. "We do a lot of reaching out, working with programs like Bridge the Gap, something that's simple like getting names from them and offering invites to certain [students]," he said. "The biggest way that we've found to get more kids in is having one-on-one conversations with kids, encouraging them to run for office and go for interviews."
Bernstein also discussed recent initiatives such as pushing freshman electives back a semester, to allow new students time to adjust to the Tam culture before deciding to become more involved.
Bernstein emphasized why these efforts to increase diversity have taken place. "We want Leadership to represent the school dynamics, and so we want everyone, not just one type of kid," he said.
AIM
The Academy of Integrated Humanities and New Media (AIM) is an academic program for 11th and 12th graders that features a documentary filmmaking course and an accelerated curriculum for English and social studies classes. The program take up students' 5th, 6th, and 7th periods to allow students to have extended collaborative work time.
As a part of the program, students produce documentaries at the end of each semester, some of which have received national acclaim. Two AP English courses, AP Composition and AP Literature, are required in AIM, and honors U.S. History is optional. After students complete their junior year in AIM, they have the opportunity to become AIM interns, where they are given additional responsibilities within the program.
Senior Kai Kohlwes described joining AIM as a pivotal moment in his high school career. "Because of AIM, I decided to pursue film in college," Kohlwes said. "AIM has also helped shape my ability to be able to communicate with teams in an effective manner, and pushed me out of my comfort zone more than once, from going to the homes of Satanists, to interviewing gay conversion therapy survivors."
With regards to diversity, white students in AIM are overrepresented by 18 percent compared to the rest of the Tam population. Every ethnic or racial group other than whites are underrepresented in AIM: Hispanic students by 7.9 percent, black students by 0.8 percent, and Asian students by 2.7 percent. There are currently no students from Marin City in the program. Additionally, there are no students in AIM with an IEP, compared with 10 percent of students at the school. "[As far as racial diversity], we are not as diverse as we'd like to be," Sharilyn Scharf, one of three AIM teachers, said.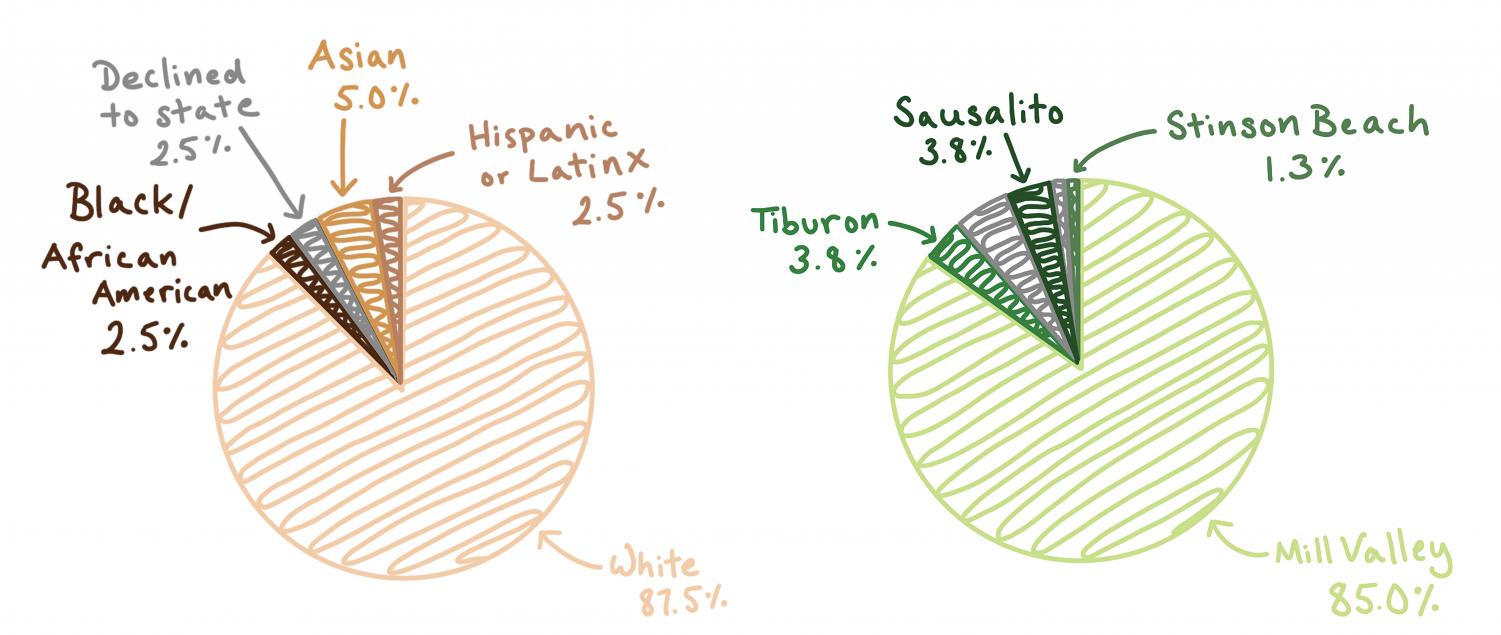 Students must undergo an application process to be accepted into AIM, in which applicants fill out a questionnaire explaining their personality and interests. "When students apply, we don't ask them demographic question," Scharf said. "When kids apply we really don't know what they are in terms of diversity."
As a part of the application process, current AIM students are asked to provide a recommendation for any of the applicants that they think would be a good fit for the program.
According to junior Hannah Kahn, an AIM intern, the lack of diversity amongst AIM students makes it harder for underrepresented students to become involved in the program.
"It's a cycle," Kahn said. "If you have a program like AIM that doesn't have much diversity, and we don't make an effort to go out and get more diversity, or the students of color at Tam don't know about AIM or don't feel comfortable applying because there aren't a lot of students of color in AIM, then you're never going to have [a diverse program]."
Link Crew
Link Crew is a program designed to help freshmen navigate the transition to high school, by pairing them with upperclassmen mentors. To be in Link Crew, one must complete a written application and then an in-person audition, in which applicants perform several activities to display their social skills and ability to interact with others.
Because there is no mandatory class for Link Crew students, the raw data on the demographics of the program are unavailable. However, Link Crew adviser and social studies teacher Luc Chamberlin is open about the program's lack of diversity.
"Informally, I can say we have noticed an overrepresentation of European-Americans, girls, mid-to-high socioeconomic students, and high achieving students," Chamberlin wrote in an email.
In response to the underrepresentation of certain groups in Link Crew, Chamberlin has participated in several initiatives in an attempt to increase the program's diversity.
"To attract kids of color, we have tried to partner with [the Students Organized Against Racism club], Compass, Bridge the Gap, and staff members who feel close to students of color to individually motivate kids to join and participate," Chamberlin wrote. Bridge the Gap is a local non-profit that provides academic support for students from Marin City.
However, Link Crew is struggling to catalyze substantive improvements to the diversity of the program, according to Chamberlin.
"It ends up being a bit of a self-fulfilling prophecy over time as well, if [freshmen] don't see students like themselves as Link Leaders on a regular basis, they may not think of themselves as Link Leaders, and therefore they don't apply or even think about the program when they are juniors and seniors," Chamberlin said. "This is the cycle that we, and I think every program, is trying to break."
---
There is not one program whose demographics accurately mirror that of the entire school. Among the groups that are most underrepresented are black students, Hispanic students, students from Marin City, and students with IEPs. AIM and Advanced Journalism have zero students with IEPs. AIM has no students from Marin City. Hispanic students are underrepresented in all of the five programs examined in this piece. There are no black students in Advanced Journalism. The greatest overrepresentation of white students is in AIM, by 18 percent.
Most programs have adopted outreach efforts directed at these underrepresented groups. Farr believes reaching out to middle school students is the most effective way to increase the participation of marginalized students in academic programs. "Even though they're not our schools, how do you work with those schools prior to [high school] to then build up your program, so students can be ready to access it [once they get to Tam]?" Farr said. "That's the model I'm moving towards … And some programs have accepted that and have done a good job, and other programs still have room for growth."
Picus expressed dissatisfaction with the underrepresentation of special education students in programs around campus. "Proportional representation is important. Students with an IEP make up about 10 percent of the campus, so if you look at a program and one percent or zero percent of their students have IEPs, that seems like an issue to me that should be addressed," he said.
Picus also added that special education students should not be generally excluded on the basis of their abilities.
"Students with IEPs have such a wide range of capacities, so to say generally speaking that a student with an IEP can't participate in a program because X, Y, and Z is ridiculous," he said.
Picus did mention that some programs do a better job of others at reaching out to special education students, but overall he thinks there is still a long way to go. "There are some programs that work really hard to recruit and get those students involved," he said. "But students of color, students with learning differences, students from low income backgrounds, we need to be doing more to make sure that they have access to all of these opportunities."
Counselor Scott Birkestrand also said that programs need to do a better job of being inclusive and serving all students, rather than just certain types of students.
"Public school is for everybody. It's for each student. That tells me that if you're being selective, you're not the right fit, that's just a no-brainer to me," he said. "If we're only helping those few students, then we're missing out on the whole mission of our school, which is to assist all students, especially the ones who need it."
Birkestrand mentioned that there are multiple reasons for the pervasive homogeneity of Tam's programs, but nonetheless the issue needs to be addressed.
"It's not any one person's issue, but it is everyone's responsibility," he said.
Graphs by Skye Schoenhoeft.
View Comments (1)